Chumley's, Greenwich Village's Favorite Speakeasy, Is Back
After a nine year hiatus, the legendary New York City hotspot, which hosted everyone from Hemingway to Steinbeck, returns with the same old look.
---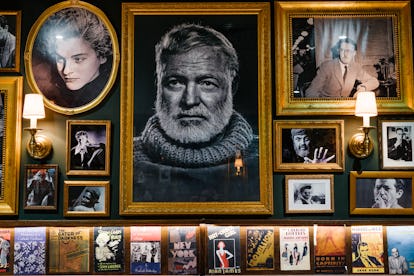 Photo by Pablo Enriquez
In December of last year, Bronx-born restauranteur Alessandro Borgognone took on the challenge of his career when he signed the lease to 86 Bedford Street, a white walled space in the heart of the West Village. The former eatery had been home to Chumley's, the legendary Village bar which first opened in 1922, and was the go-to watering hole for such literary giants as Ernest Hemingway, F. Scott Fitzgerald, and John Steinbeck until its collapse in 2007 due to a faulty chimney. Borgognone, best known for his famed West Village sushi restaurant Sushi Nakazawa, was determined to restore Chumley's to its original glory. To do so, the 36-year-old hired a historian to help him backtrack, replicate, and source every photo and accoutrement that had adorned the original haunt. "We went off pictures taken from the original Chumley's and came as close as you possibly can to making it look like what it used to look like," says Borgognone, who also located the exact wallpaper as well as two of the original dining room tables, which he framed and hung from the wall. "When you walk in you don't know if it's new. It looks like it's been there for 100 years," he says.
While Borgognone wants to maintain the original speakeasy vibe, he is equally determined to make it a culinary stand out. In order to curate the fifteen item menu which he describes as "classic American with a French twist," he enlisted the former chef de cuisine of Atera, Victoria Blamey, who he worked with to craft dishes such as steak tartare, hamachi crudo, and a burger that took five months to perfect. For dessert, he advises to order the house specialty: the raspberry flying saucer, which consists of raspberry filling sandwiched between two chocolate crackers.
Although Borgognone never got the opportunity to visit the original Chumley's, he is determined to preserve its legacy. "I wanted to conserve the history of Chumley's, there was a warm and inviting feel and I didn't want to lose that aspect of it," says Borgognone. "If those walls could speak, who knows what they would say."
Calling card If the unlisted telephone number and no frills website is any indication, you'd be lucky to get a reservation for December. If you manage to do so, you'll find it tucked away behind an unidentified green door.
Tribes "It was created for everyone," says Borgognone. Expect everyone from local Villagers to suits and the fashion set.
Food and drink Appetizers start at $9, cocktails at $16.
The Basics 86 Bedford St, New York, NY 10014. chumleysnewyork.com
Chumley's 2016 – 86 Bedford St Photos by Pablo Enriquez for W Magazine

Pablo Enriquez
Chumley's 2016 – 86 Bedford St Photos by Pablo Enriquez for W Magazine

Pablo Enriquez
Chumley's 2016 – 86 Bedford St Photos by Pablo Enriquez for W Magazine

Pablo Enriquez
Chumley's 2016 – 86 Bedford St Photos by Pablo Enriquez for W Magazine

Pablo Enriquez
Chumley's 2016 – 86 Bedford St Photos by Pablo Enriquez for W Magazine

Pablo Enriquez
Chumley's 2016 – 86 Bedford St Photos by Pablo Enriquez for W Magazine

Pablo Enriquez
Chumley's 2016 – 86 Bedford St Photos by Pablo Enriquez for W Magazine

Pablo Enriquez
Chumley's 2016 – 86 Bedford St Photos by Pablo Enriquez for W Magazine

Pablo Enriquez
Chumley's 2016 – 86 Bedford St Photos by Pablo Enriquez for W Magazine

Pablo Enriquez
Chumley's 2016 – 86 Bedford St Photos by Pablo Enriquez for W Magazine

Pablo Enriquez
Chumley's 2016 – 86 Bedford St Photos by Pablo Enriquez for W Magazine

Pablo Enriquez
Chumley's 2016 – 86 Bedford St Photos by Pablo Enriquez for W Magazine

Pablo Enriquez
Chumley's 2016 – 86 Bedford St Photos by Pablo Enriquez for W Magazine

Pablo Enriquez
Chumley's 2016 – 86 Bedford St Photos by Pablo Enriquez for W Magazine

Pablo Enriquez
Chumley's 2016 – 86 Bedford St Photos by Pablo Enriquez for W Magazine

Pablo Enriquez
Chumley's 2016 – 86 Bedford St Photos by Pablo Enriquez for W Magazine

Pablo Enriquez
Chumley's 2016 – 86 Bedford St Photos by Pablo Enriquez for W Magazine

Pablo Enriquez
Chumley's 2016 – 86 Bedford St Photos by Pablo Enriquez for W Magazine

Pablo Enriquez