Premiere: Rapper, Model, and A$AP Mob Protégée Chynna's New and Improved "Bets" (Exclusive)
The 24-year-old rapper shares a new, chopped and screwed version of "Bets," an old fan favorite.
---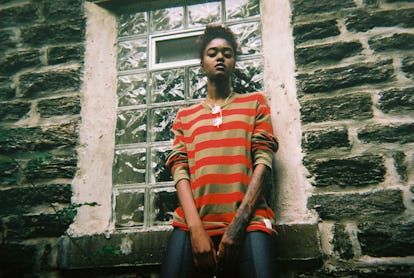 John Miller
Chynna Rogers was sitting on a patio outside a Los Angeles recording studio, smoking a cigarette. "Aw, these f—ing bugs out here," she muttered over the phone. It was a cool afternoon, compared to the heat wave rolling through the 22-year-old model and rapper's east coast base. It gave her a sense of remove from the political turmoil back home.
"Now that I'm on the other side of the country, I can at least tell myself I have some distance between me and the president," she said over the phone. "I can kind of think about other things, or think about nothing at all, out here."
Though her new EP, Music 2 Die 2, out Friday, had already been submitted, mixed, and mastered, she was still putting in time in the studio. Of the four tracks on the EP, two ("Seasonal Depression" and "Practice") had already been released as singles; a third, "Bets," premieres exclusively here on W.
"Bets" drips with swagger. Rogers, who records simply as Chynna, raps, "Bet I'm in yo' bitch's Top 10; she just slide into my DMs" over a minimalist beat and the occasional piano chords, dampened to sound almost out of pitch. "It's a little more jazzy," she said; it sounds like you've been turned sideways. Then, just less than a minute into the song, it suddenly slows, Rogers's vocals chopped and screwed by layering tracks over each other because she "didn't know how to actually do it on turntables," she admitted.
Initially, Rogers felt Music 2 Die 2 lacked cohesion. But with the title—a reference to Hitchcock's Music to Be Murdered By and fitting for an artist who recently described her sound as "scary and dense and kind of cryptic"—came a new philosophy: "Now that I just try to consider it songs that I wouldn't mind dying to, literally," she said, "everything's just a different mood."
Though this is the official release of "Bets," Rogers leaked it last spring, shortly after she wrote it. "We didn't know what to do with it," she said, referring to herself and producer Tala. (Five producers collaborated on the four tracks of Music 2 Die 2.) "It didn't really have a home." After she received a positive response, she decided to "revamp the beat" and officially re-release it on 2 Die.
A year later, it's not just "Bets" that has evolved. Rogers, who was scouted by Ford Models at just 14, has been accepting fewer fashion jobs, allowing her more time to focus on music. (She has previously walked for labels like Sophie Theallet, Gypsy Sport, and DKNY.) She's also over a year clean, after struggling with opiate addiction; a few months ago, her mother died, a personal tragedy that threatened her sobriety. (Her Twitter bio is a touching, subtle remembrance of her late mentor, A$AP Yams, and a fellow rapper, Hulitho, as well as her mom: "rip yams x hulitho x mommy," it reads.)
But for all the demons she's had to conquer, the impression on her music is unmistakable: "I'm not as dark, as morbid, as depressed in every track, and not as angry and aggressive," she said. "I think my energy has shifted. I feel like I'm speaking more, now, from more of a reflective state than in the middle of—" she paused for a moment. "It's so hard to explain. I'm speaking now in retrospect, rather," she continued, "than from this being live—like this is what's happening, I'm high right now, or I'm kicking right now."
She has also emerged more assertive, as well as more introspective: "It made me a lot less hesitant about what I'm going to speak on," she said, "but also made me a lot more conscious of what I choose to speak on."
After Music 2 Die 2 debuts Friday, Rogers will embark on a U.S. tour that culminates in her hometown, Philadelphia. (When she's not in L.A., Rogers splits her time between New York and Philadelphia, though she still considers herself staunchly "pure Philadelphia at heart.") And then, you'll probably find her back in the studio, preparing to release her debut full-length.
Sanaa Lathan was serenaded by Sesame Street on her favorite birthday: