An Inside Look at Ciara's Ethereal, Flower Crown-Filled Baby Shower
The guests wore all white.
---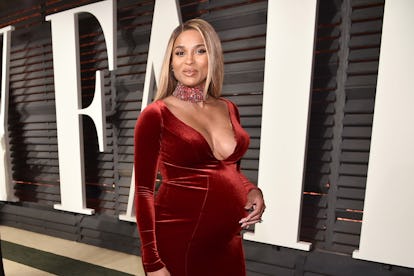 Mike Coppola/VF17/Getty Images
Ciara announced that she was pregnant with her second child in October, and this past weekend, the singer and her football star husband, Russell Wilson, threw a baby shower to celebrate the bundle of joy's impending arrival. Based on the photos Ciara has shared, the affair was an ethereal, all-white celebration with more flower crowns that Coachella.
Event planner Mindy Weiss helped pull together the extravagant shindig, which featured catering by cult burger chain Shake Shack, a beautifully decorated tent, pristine white outfits worn by guests, and those flower crowns galore. Serena Williams and La La Anthony were reportedly among the attendees. According to E! News the shower was held at a private residence in Los Angeles.
Ciara shared a few photos by photographer Daniel Mogg from the day on Instagram. One shot shows Ciara surrounded by 18 friends, all wearing white ensembles and floral headpieces. She also posted a few photos of herself, which brought out the gorgeous details on her airy, floor-length, bohemian-inspired dress, and a picture of Wilson, who was outfitted in a white sweatshirt, white pants, and white sneakers with gold buckles. In place of a blossoming headpiece, he opted for aviator sunglasses as an accessory.
E! says the couple decided to make the affair co-ed, going against baby shower convention—unsurprising, considering that even Ciara's rendition of the classic "nude pregnant celebrity" portrait was an all-hands-on-deck affair. Ciara, Wilson, and her 2-year-old son, Future, recently posted for a half-nude family photo shoot, prompting the Internet to explode with memes. (Ciara has since deleted the image from her Instagram account.)
Check out a few of Ciara's Instagram posts from the event, below.
Related: Peter Dundas on Designing Ciara's One-of-a-Kind Wedding Dress
An Intimate Moment with Ciara, Before Her Wedding to Russell Wilson:
11 Secrets To Pulling Off Sheer Dresses Like Ciara
"Dressing her in something sheer always feels effortless and easy because she is so comfortable in her own skin," Zangardi says. "She also has the confidence and stature to pull it off. We say it all the time: it always comes down to how you wear things and how good you feel in them."
Ciara in Givenchy couture at the 2013 MTV Video Music Awards in New York, New York, August 2013. Photo by Getty Images.
Accessorize minimally, Haenn says: "Since the look is making such a statement, the jewelry should balance rather than compete for the attention. Either that or one simple statement piece, like a chic, modern cuff or choker."
Ciara at the Givenchy Fall 2016 show in Paris, France, March 2016. Photo by Getty Images.
How much sheer is enough? When is it too much? "The right amount of sheer is when something is still left to the imagination: your legs, arms, or torso," Haenn offers. "Also, if you're going for sheer, opt for more fabric in general. Don't go sheer and short, for instance. Too much is when it begins looking like lingerie or a nighty."
Ciara in H&M at the Metropolitan Museum of Art Costume Institute Gala in New York, New York, May 2016. Photo by Getty Images.
"This is the perfect example of going for more fabric when wearing something sheer," Haenn explains. "Ci is fully covered up yet the sheerness of the fabric says otherwise. The stunning beading of the dress wouldn't be seen quite the same way if it wasn't sheer."
Ciara in Reem Acra at the 2015 American Music Awards in Los Angeles, California, November 2015. Photo by Getty Images.
"The strategic cutouts and slit balance the heaviness of the fabric beautifully. It's like a futuristic 90s inspired creation: simple yet statement," Zangardi says of why Ciara's first BBMA look works.
Ciara in Philipp Plein at the 2016 Billboard Music Awards in Las Vegas, Nevada, May 2016. Photo by Getty Images.
When go sheer? "It's always good to push the envelope sartorially and nothing makes a bold statement like a sheer dress," Zangardi says. "But you must consider the occasion. For red carpet, events that feel a little more rock 'n' roll are right: the Grammys, Billboard Awards, VMAs. For real life, a dressed up party or more fashion-focused event, like an opening or cocktail party, works."
Ciara in Alexandre Vauthier at the Daily Front Row Fashion Los Angeles Awards dinner in Los Angeles, California, March 2016. Photo by Getty Images.
"With sheer dresses, what goes underneath is as important (if not more so) as the dress itself. Choose beautiful basic undergarments that look elegant and intentional," Zangardi says.
Ciara at the Givenchy Spring 2016 show in New York, New York, September 2015. Photo by Getty Images.
"If the dress does not call for a bra, opt for Top Stik or another discreet garment tape to make sure everything stays where it should," Haenn adds.
Ciara in Wes Gordon at the BET Awards in Los Angeles, California, June 2015. Photo by Getty Images.
"A secret trick we use is lining for just those specific places that you don't want to be sheer," Haenn says. "Finding the perfect color to match your skin is key."
Ciara in Givenchy at the release party for CR Fashion Book No. 5 in Paris, France, September 2014. Photo by Getty Images.
"Go for classic, simple basics in solid fabrics," Zangari recommends for undergarments. "Also, opt for more coverage than usual since your dress is barely there." He recommends Commando in Nude, because the brand offers a range of skin tones.
Ciara in J. Mendel at the American Music Awards in Los Angeles, California, November 2013. Photo by Getty Images.
"Last but not least, posture!" Haenn advises. "You'd be surprised what a difference it makes, especially in something sheer."
Ciara in Naeem Khan at the Billboard Music Awards in Los Angeles, Nevada, May 2016. Photo by Getty Images.