Ciara, Revlon's New Ambassador, Talks Beauty and Brows
"It's all about keeping the eyebrows in check," the singer said.
---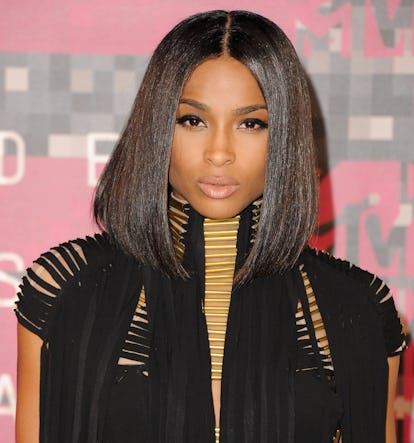 2015 Jon Kopaloff
Ciara loves talking beauty. Strong, impactful beauty, to be specific. And she points to her grandmother as an inspiration.
"She is so fabulous and glamorous. She's always been all about being dressed to the nines, no matter what," she raved. "And everybody knew who Grandma Gladys was because of how she represented herself."
Ciara's life comes from a line of strong women, including Gladys's daughter Jackie, whom Ciara named her 2015 album after.
Now, with this week's announcement that Revlon named the singer as its newest global ambassador, she joins a new group of powerful ladies, like Emma Stone and Olivia Wilde. We asked the singer, who recently explained that she was named after the Revlon fragrance, Ciara, what representing the brand means to her.
"This is a dream come true," she beamed, fresh off a mini-concert at New York's Refinery Hotel on Tuesday night. "It's everything."
Dressed in a chic off-white satin suit, the singer wore an intense lipstick and platinum on her eyelids. "I'm really obsessed with their Ultra HD Matte Lipcolors," she explained, pointing to her mouth. "This one is called Seduction."
Fanning herself in a tented terrace that was begging for air-conditioning, she indulged us about the rest of her makeup.
"My makeup artist mixed a shadow with Revlon's Photoready Kajal eye pencil for this smudged and smoky look. And I've been obsessed for years with their ColorStay Brow Pencil," she explained. "Because it's all about keeping the eyebrows in check. I believe if a girl has her eyebrows together, she's got a good start."
Watch Ciara getting ready for her wedding: