Ciara Shot Her Powerful Rooted Video Two Days Before Giving Birth
It's a love letter to Black youth.
---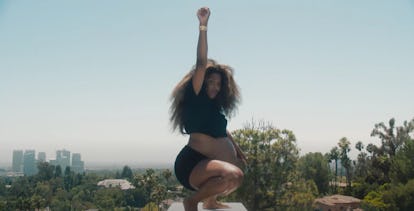 Back in February, Ciara made a surprise appearance at Bulgari's Fashion Week party and performed a rundown of her greatest hits with full choreography just a few weeks after announcing her third pregnancy in front of a crowd that included Zendaya and Lily Aldridge. So impending motherhood is no obstacle to the singer putting in that "work."
In fact, Ciara shot her latest video for her new single "Rooted" just two days before giving birth to a son on July 23rd. "Shot this video 2 days before delivery, Covid style!" she wrote on Instagram.
Of course, COVID-19 wasn't the only major news story of the summer, and "Rooted," which features Ester Dean, is a love letter to young Black lives. Along with interludes of dancers, and images of Black youth, family, and love, "Rooted" also features imagery from this summer's #BlackLivesMatter protests with calls for justice for George Floyd and Breonna Taylor. The video ends with a shot of Ciara with her two children Future Zahir and Sienna before a call to action to keep fighting and to "stay rooted."
While Ciara only just released her 7th album Beauty Marks in 2019, "Rooted" serves as the first single from a yet-unnamed upcoming album.
Earlier this year, Ciara told W that she was trying to make the best of being pregnant during the pandemic and looked at it positively. "There are just so many uncertainties. I try not to use negative language to talk about it, because I really believe that when it's all said and done, we're going to come out from this stronger than ever," she said. "So it's the time of the unknown, and we're making the best of it, trying to find as many positives as we can in the midst of the storm."
Related: Ciara on Building a Community Around Being Pregnant During Covid-19