Making Cinderella's Slipper
Sandy Powell talks about her latest costume design challenge.
---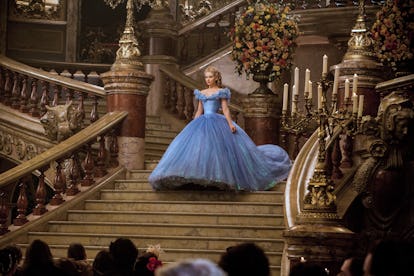 Costume designer Sandy Powell, who has won Oscars for her work on Shakespeare in Love, The Aviator, and The Young Victoria, took on the challenge of reinventing Cinderella. Here, Powell opens up about going from designing suits for The Wolf of Wall Street to one-of-a-kind Swarovski slippers for the Disney film.
What made you want to get involved with Cinderella? It was quite unlike anything else I've done before. I was excited by the challenge of doing something that was aimed at kids, as well as adults. Before Cinderella I did The Wolf of Wall Street, which couldn't be more of an opposite film.
And how did you approach this film, since it was so different? I approach all films in exactly the same way, regardless of the subject matter. I start with reading the script, talking to the director, and researching the period if it's historical. For The Wolf of Wall Street I was making all the suits in the same way that I was making ball gowns and prettier things in Cinderella. It's really the same process; you just have a different audience in mind.
Do you remember watching Cinderella growing up? This is embarrassing, but no! Obviously I knew the story. It seems like every girl is born knowing the story. I don't think fairytales were my favorite thing as a kid. I didn't want to be a princess.
What were some of your inspirations for Cinderella? There are so many versions of her out there already, how did you make her your own? Of course, I looked at every other Cinderella there had been, thinking that I needed it to be different, yet, it couldn't be a million miles away from the animated version everyone knows and loves and has grown up with. In a way, I had to stick to certain rules, like it had to be the prettiest dress at the ball, and it had to fulfill every little girl's dream. But still, I wanted it to be different and slightly more contemporary. Having given myself those challenges, I collected lots of images of ball gowns from all periods—any large, pretty ball gown. I knew it had to be big and follow a nineteenth-century silhouette, but I wanted it to appear weightless. I didn't want it too adorned or fussy, so that it would stand out from the crowd in its simplicity. We can assume that every other woman at that ball has really overdone it in order to capture the Prince's attention.
Is the glass slipper unique as well? It was an even bigger challenge than the dress. I wanted it to be more than just a glass shoe; I wanted it to really sparkle and shine and refract light. I thought crystal was the obvious way to go. I approached Swarovski to see if they could do this, which they did, but it wasn't an easy task. It took many months of back and forth and they actually ended up having to develop technology because they hadn't really done anything that size before that was hollow. We didn't know whether or not it was going to work until we got our first prototype, which was only a few weeks before we started shooting. Fortunately, it turned out spectacularly.
Disney's Cinderella is out on Blu-ray and Digital HD September 15. Watch an exclusive sneak peek below.
Photos: Making Cinderella's Slipper
Sandy Powell and Cate Blanchett. Photo courtesy of Disney.
Sketch of Sandy Powell's design for Cinderella's ballgown. Photo courtesy of Disney.
Lily James. Photo courtesy of Disney.
Lily James and Richard Madden. Photo courtesy of Disney.
Lily James and Richard Madden. Photo courtesy of Disney.
Lily James. Photo courtesy of Disney.
Sandy Powell. Photo courtesy of Disney.