Cindy Chao: The Chao Factor
From all sides, Taiwanese jeweler Cindy Chao's intricate pieces are works of art.
---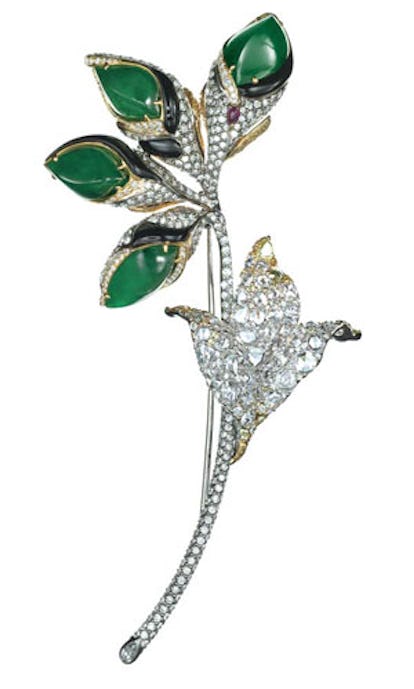 With a sculptor for a dad, Cindy Chao might have been expected to pursue a creative career. Yet she has her business-minded mother—a die-hard, no-kid-of-mine-is-going-into-the-arts type—to thank for her current gig. Chao had set her sights on interior design, when her mother, Qui Yu Lau, hoping to throw her off track, suggested jewelry design instead. Knowing that her daughter never wore bijoux, Lau imagined the job to be no more than a passing fancy. "She wanted me to become a businesswoman like her," says the Taipei designer, 35, whose parents divorced when she was young. Happily for jewelry fanatics, things didn't go as planned.
18k yellow gold, tsavorite, ruby, sapphire and diamond brooch, $236,363.
In 2004, after studying at the Gemological Institute of America in New York, Chao returned to her native Taiwan and launched her own line, which sells at Lane Crawford. It wasn't until 2007, after a financial rough patch, that Chao hit her stride and began churning out the breathtaking finery that has become her signature. "I had been doing conservative, traditional jewelry," she says. "I knew that if I kept doing that, I wouldn't survive much longer in the market." Today her collections are alluringly artistic, like small sculptures crafted from gorgeous gemstones. "Every angle," Chao notes, "is totally complete." So while the front of a butterfly brooch is covered in jewels—including four generous rough diamonds stacked atop a pavé layer—the back is entirely embellished too. In addition to numerous nature themes, Chao, who also creates smaller custom versions of some of her designs for private clients, finds inspiration in architecture (the work of Japanese architect Paul Tange informs a pair of spiraling earrings), as well as in her own heritage. Case in point: her dangling black and white diamond pendant earrings, which feature intricate Chinese landscape scenes—on the back, no less.