Cindy Crawford, Naomi Campbell and Iman Celebrate Tom Ford's Return to New York Fashion Week
With legendary supermodels on the runway and in the audience, Tom Ford's dinner-runway show was Instagram eye candy.
---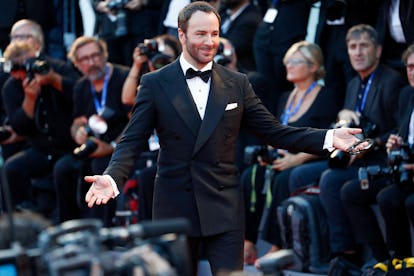 AndreasRentz/Getty Images
Tom Ford is a busy man. Since his departure from Gucci in 2004, the Austin, Texas native has built a formidable name for himself as both an independent designer and film director. His first movie, "A Single Man," starring Colin Firth as a college professor distraught at the death of his lover, was released in 2009 to critical praise and Academy Award nominations. Last week, Ford premiered his second film, "Nocturnal Animals," a tense thriller starring Amy Adams and Jake Gyllenhaal, at the Venice Film Festival; it was met with similarly rapturous approval. For a designer with such a seemingly bottomless drive to create, the conventional rhythms of Fashion Week don't satisfy: rather than showing clothes that would become available in the coming months, last night Ford debuted garments at the Four Seasons restaurant that are available to purchase immediately.
One needs only to glimpse the crowd at last night's event to get a sense of the immense clout Tom Ford wields in all realms of the upper echelon. Though much of the Internet remained in the sway of the Yeezy collection debuting across town, devotees such as Naomi Campbell, Jon Hamm, Alicia Keys, and Karlie Kloss all flocked to Ford. Observe the highlights below.