Cindy Sherman: Closet Queen
Artist Cindy Sherman is forever dressing the part. On the eve of two major shows, she gives Diane Solway the lowdown on her costume dramas.
---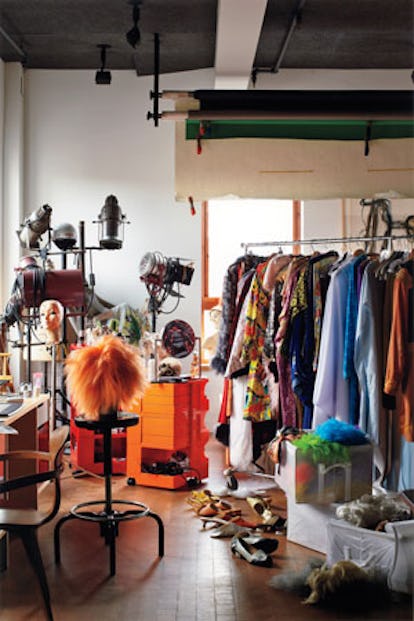 Given the myriad characters populating artist Cindy Sherman's universe, you arrive at her studio expecting to discover a teeming stage set. But step inside her duplex penthouse in Manhattan's TriBeCa and you find Sherman alone in a tidy, hushed oasis. For more than three decades, she has focused on a single model—herself—transforming a shy, private woman into all manner of female archetypes, from radiant Renaissance Madonna and pulpy pinup to sultry screen siren and desperate clown. Here, amid the mannequins, wigs, body parts, and props that fill her photographs—and her closets—Sherman plays director, makeup artist, stylist, costumer, and unassuming star.
Sherman wearing Balenciaga in Untitled, 2007/2008.
"I can't focus without order, because once I start working, it's a total mess in here," Sherman told me as she gave me a tour. Her studio, a long, windowed room with a fake stone fireplace, connects to her bedroom via a narrow passageway and takes up half the lower level. "I throw costumes and wigs on the floor because I want to see everything. I'll try things on and go through each box until something clicks."
Sherman pulled out a sliding door, part of the built-in closet, to show me the bins piled on floor-to-ceiling shelves behind it. A feat of organization, everything on view was labeled: reptiles, fingers, facial hair, doll parts. She pointed out a row of vintage heads used in beauty schools and a tiny mannequin intended for practicing CPR on children—discovered, like nearly all of her materials, at "weird yard sales" and in thrift shops and novelty stores. Nearby stood racks of robes she'd brought back from Morocco and "Upper East Side ladies cast-off stuff," as she called the clothes she used in her 2008 series of portraits of society doyennes.
Now the subject of a MoMA retrospective opening February 26, Sherman has amassed so many wigs, she said, that she has had to not only categorize them by color but also "separate them into men's wigs, clown wigs, and then wigs that have a lot of potential." She motioned to the windowsill, where three brown wigs ("ordinary hairstyles you'd see on somebody in midtown, maybe a tourist or a secretary") appeared to be gazing out, waiting to be put to use. "I could throw them in a box," she acknowledged, "but then they'd get rumpled and lose their shape—and these are ready to go."
Sherman's own bright blonde hair was damp, and her face was free of makeup. Devoid of strong features, it's an ideal canvas for her large-scale color portraits, though on that day, one of her blue eyes was stained red, the result of a burst blood vessel, making the other look strikingly blue. Years of practice have made Sherman adept at doing her hair and makeup, and she finds her way into a role only as she transforms herself and puts on the costume, studying each effect in the mirror set up next to her camera. Moving from 35mm film to digital technology has allowed Sherman to see results immediately, without having to break character. "The fact that she's so self-contained gets to the very heart of her work," says Eva Respini, the curator of the MoMA show. "Taking on a persona, getting into character, and performing for the camera is a very private act for her. She can only let loose when she's on her own."
From top: A dress from her costume closet; rows of doll and beauty-shop heads in her closet.
Sherman, 58, has been constructing guises for much of her life. Growing up on New York's Long Island the youngest of five kids, she kept a collection of Troll dolls—dwarflike creatures with neon-colored hair—and created shoebox houses for them. At 12, she walked around her neighborhood dressed as an old woman, wearing her great-grandmother's dress, stockings, and bloomers, with stuffed socks standing in for sagging breasts. She digs out a framed photograph of her taken at that time, joking that it's probably the first Cindy Sherman work.
Increasingly, she's channeling more of herself into her projects but insists her photographs are not autobiographical, calling them performances: "You'd never ask an actor if they were playing themselves even if you can recognize them." And while revealing herself is not her intention, she allows that the newfound vulnerability critics praised in her 2008 portraits of aging affluent women arose from her feeling of kinship with her subjects. "It was scary how easy it was to become these women—those wrinkles in the neck, you know, they weren't makeup," she said with a laugh. "My thought about these women was that they were showing off their fantastic lives and wealth and yet couldn't hide the price they had paid to get there. I could ­identify with being really successful and at the same time feeling like life isn't always so perfect even when you think you have it all."
For her latest photographs, to be unveiled in April at New York's Metro Pictures, Sherman had her pick of the Chanel ­archive, selecting the outfits from images sent to her by the famous fashion house. Once she made her choices, "they started sending me big coffinlike trunks stuffed like there was an invisible body inside of them." It was her first experience wearing couture. "I didn't want to take the hours it would take to do makeup," she recalled, "because the clothes were so valuable and also pretty excruciating to wear, mostly because I couldn't get them on." Unable to zip up a beaded chiffon gown, she had to hold up the dress with one arm while she shot the picture with the other. "I was just so pissed because every time I'd go to pick up a mirror, the dress would fall off. Beads were falling on the floor, and I'm crunching on them. So it kind of affected the characters." Ultimately, she shot herself in front of a green screen, then Photoshopped in her face and the "crazy Icelandic landscapes" she'd snapped on a recent trip.
An art star since the eighties, Sherman set an auction record for photography last May when her Untitled from 1981 sold for $3.89 million. (It has since been topped.) Those kinds of prices have no doubt helped support her penchant for Prada, Marni, Narciso Rodriguez, and Marc Jacobs­—as a glimpse of the walk-in closet and racks of shoes in her bedroom suite attested. Still, she has sat front row at only a handful of shows, she told me—one of them Balenciaga after she was commissioned to do a series of portraits of Balenciaga-clad fashion characters (the editrix, the party hopper, the critic), which is now part of François Pinault's permanent collection. Two considerations give her pause: "There's the clothes to sort out. I have to think about what I'll wear," she said. What's worse, however, is the possibility that she'll be photographed by somebody else. "And that's never comfortable," she admitted. "Those women who are able to suddenly strike a pose? I would love to be able to do that."
Untitled: courtesy of the Artist and Metro Pictures