Cinema Fraternité: The 7 Movies to Go See This Thanksgiving Weekend So You Don't Fight With Family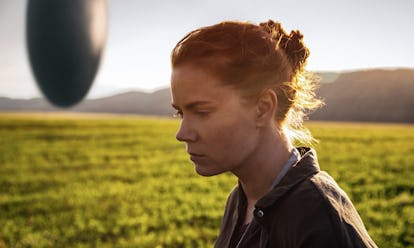 Photo by Jan Thijs for Paramount Studios.
For many of us, this holiday weekend is the first time we'll see our families since Donald Trump became President-elect, and nothing ruins turkey faster than the squabble-squabble of politically charged bickering. Instead of sitting around tensely with too many drinks in hand, go out to the movies. In fact, here are the seven best movies for you to spend time with family without actually having to spend that much time with them.
Arrival
Director Denis Villeneuve's stunning sci-fi drama is about disparate groups (in this case, 12 countries around the world) learning to speak as one in order to achieve a common goal (in this case, to find out what in hell these seven-legged aliens are doing on earth). Arrival will teach your family the power of finding a common language, and make them cry in the process. Plus, is there anyone in red or blue America who actively dislikes Amy Adams? Apparently, not even extraterrestrials are immune to her charms.
Fantastic Beasts and Where to Find Them
There is one thing that everyone can agree on, regardless of political leanings: Harry Potter. J.K. Rowling's latest offering — which lays the mazy groundwork for a new five-film franchise — is good old-fashioned, uncontroversial fun for the whole family. It's just too bad it didn't premiere in time for Halloween.
Loving
This Oscar-buzzy film tells the true story of Mildred Jeter (Ruth Negga), a black woman, and Richard Loving (Joel Edgerton), a white man, who, in 1967, were arrested by the state of Virginia for violating interracial marriage laws. The couple sued the state, and their case eventually made it all the way to the Supreme Court (you can probably guess how it ends). What better time to see a movie that celebrates the fight for tolerance and humanity, not to mention the power of love? And these two don't even wear capes.
The Edge of Seventeen
If your family includes a teenager or two, The Edge of Seventeen, which introduces the next great comedy duo of Hailee Steinfeld and Woody Harrelson, is required viewing. Teens will love it because it verifies their most trenchantly held belief: that their micro-problems are, in fact, the most important thing in the world. Parents will love it because it verifies their most trenchantly held belief: that teenagers are whiny, irritating creatures with no sense of the bigger picture. This nonpartisan movie reaches across the aisle, gleefully.
Lion
An Indian man (Dev Patel) desperately searching for his long-lost family with only some hazy childhood memories and Google Earth to guide him — this is a man that will stop at nothing to connect with his loved ones, even leaving his girlfriend (Rooney Mara) and picture-perfect adoptive parents (Nicole Kidman and David Wenham) behind to go on his impossible search. Kind of makes you appreciate the fact that your family is right here, huh?
The Eagle Huntress
This documentary about a young Mongolian girl upending her cultural traditions to become the first female eagle hunter in twelve generations is just the true story of human triumph we need to get us through these trying times (the holidays). What could be more satisfying, especially now, than watching a woman succeed in a role typically reserved for men?
Bad Santa 2
Some might say that the idea of a movie about a ghastly, proudly politically incorrect clown in a suit feels too much like real life right now. But we say that it's okay to laugh at Billy Bob Thornton. Maybe.
Happy holiday season, everyone!