Meet CL, Jeremy Scott's K-Pop BFF
Five questions with the social media star and front-row fixture.
---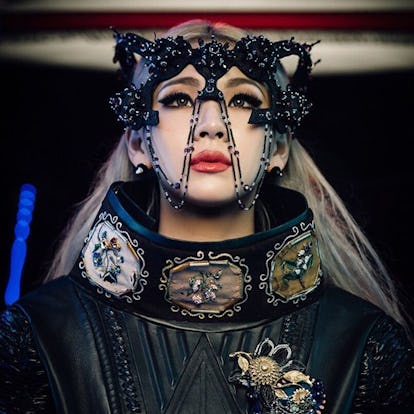 South Korean singer Lee Chae-rin, aka CL, has all the ingredients of a social media mega-star: a bad girl squad, big cool friends like Jeremy Scott and Alexander Wang, she's a front-row fixture at shows like Chanel's cruise in Seoul, and she's got a personal style that can best be described as unique. No wonder she has 3.3 million followers on Instagram. Last month, she released a viral music video for new song, "Hello Bitches" and it's already scored 5.5 million YouTube views, and counting. She claims, though, she's just a novice at social media.
Share one favorite anecdote from working with Jeremy Scott: I can't pick one. We spend a lot of time together: on the red carpet, photo shoots, fashion events. It's so rare and special to be with a friend to make those memories together. At the same time, just hanging out at home, swimming, doing simple things – those are actually my favorite.
Which other designers do you work with to style your new music videos? House of Malakai to Alessandro Francalanci to Jeremy Scott to Alexander Wang to Chanel to vintage John Paul Gaultier to Lynn Ban. I like headpieces, bold accessories and mixing my favorites with up-and-coming, new designers just out of school.
How would you describe your style? If I had to choose a word, it would be 'bold' or 'fun'. I wear what I feel depending on my mood.
Beauty must-haves? My eyeliner. I like to wear it as it makes me become "CL."
Social media pet peeves? I like to see all of the fan art but since I am not an expert at social media, I don't know how to work everything. I am still new to Twitter.
Meet CL, Jeremy Scott's K-Pop BFF
Photo courtesy @chaelincl
Photo courtesy @chaelincl
Photo courtesy @chaelincl
Photo courtesy @chaelincl
Photo courtesy @chaelincl
Photo courtesy @chaelincl
Photo courtesy @chaelincl
Photo courtesy @chaelincl
Photo courtesy @chaelincl
Photo courtesy @chaelincl
Photo courtesy @chaelincl
Watch W's most popular videos here: