Claire Danes Loves Frank Ocean Just as Much as You Do
The actress, Art21 host, and self-proclaimed podcast freak shares what she's obsessing over in her culture diet.
---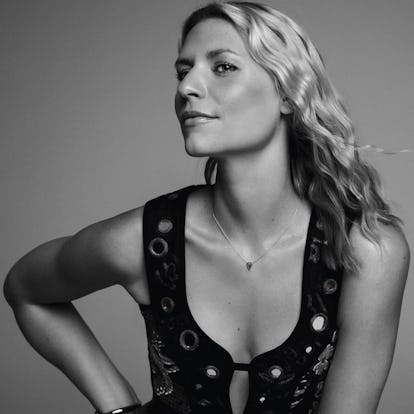 PBS and Art21's much beloved art series "Art in the Twenty-First Century" is getting a makeover this season, shifting its focus to the cities artists live in. Plus it's adding some Hollywood star power with a new host, Claire Danes. The actress got into the art world early on growing up in Soho with two artist parents, and in between filming "Homeland" and raising her three-year old son in Brooklyn, she found time to get to know the Chicago, L.A., Mexico, and Vancouver scenes too – not to mention names like Nick Cave, Barbara Kasten, and Theaster Gates for the new season of "Art21." Get a taste of her taste before the season premiere next Friday in her culture diet, here.
First thing you read in the morning: First thing I read is the weather. Then the Times' Morning Briefing on my phone. Oh, and my lines for the day. Best to cram 'em in right before bed and first thing in the a.m.
Books on your bedside table right now: Love's Executioner: & Other Tales of Psychotherapy by Irvin D. Yalom, The Patrick Melrose Novels by Edward St. Aubyn, and an alarming stack of home décor magazines.
The TV shows keeping you up at night: "Portlandia," "Bojack Horseman," "The People v. O. J. Simpson," "I Am Not Your Guru" (the Tony Robbins Netflix documentary), "Making a Murderer," and I'm still mourning the loss of the Olympics.
Last movie you saw in theaters: Weiner. So good.
Last thing you saw at the theater: A couple of weeks ago, Hugh [Dancy] and I took Cyrus to see his first Broadway show, The Lion King. A first for me too. Before that, it was The Humans. Brilliant.
Last piece of art you bought: A black-and-white photograph of an empty glass by the New York artist Amanda Means.
Last museum exhibition that you loved: We went to the Whitney yesterday and saw the portraits exhibit. Great show and seriously great building. What a fab offering to our city.
Last song you had on repeat: Been listening to a lot of Frank Ocean and Blood Orange. Nikes, Nikes, Nikes.
Last concert you saw live: Oh, man. Live concert? First thing that comes to mind is Sleater-Kinney, but that was a good two years ago. Can that be right? Jeesh. It was great, though!
How you get your news: I haven't had any ink stains on my hands for yeeeears now. I'm afraid it's all screens all the time for my news intake. I do, however, still read the New Yorker in its original from. Highlights for grown-ups.
Favorite podcasts: I'm a podcast freak. My faves: "This American Life"; "Radio Lab" (and their latest off-shoot "More Perfect"); "Fresh Air"; "The Tim Ferriss Show"; "Freakonomics"; "Song Exploder"; "Dear Sugar"; "WTF with Marc Maron"; "How to Be Amazing with Michael Ian Black"; "Here's the Thing"; "Death, Sex & Money"; "Savage Lovecast"; "99% Invisible"; "Invisibilia"; "Women of the Hour"; "Design Matters"; and "On Being."
Last thing you do before you go to bed: See answer to first question. And kiss my hubby, if I'm lucky.