Claire Foy Gets Dragon Tattoo, Will Be New Lisbeth Salander
The actress will put down her crown and pick up some tattoos.
---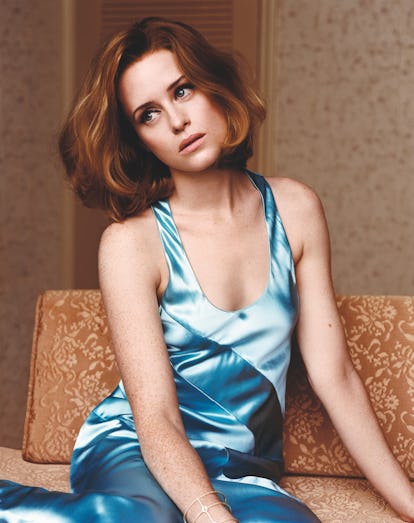 Photographs by Alasdair McLellan, Styled by Edward Enninful; Hair by Shay Ashual at Art Partner; makeup by Diane Kendal for Marc Jacobs Beauty at Julian Watson Agency; manicures by Casey Herman for Dior at the Wall Group. Set design by Stefan Beckman at Exposure NY.
Claire Foy is trading in her crown and capes for some ink and leather.
The next season of The Crown may be her last, but she's just snagged a movie star-making role as Lisbeth Salander in the Hollywood reboot of The Girl With the Dragon Tattoo series.
Even though Stieg Larsson's original The Girl With The Dragon Tattoo novel was published less than 10 years ago, Foy will be the third actress to play the part. Noomi Rapace played Salander in the original Swedish-language adaptation of the books and has since become a world-wide star. Then in 2011, Hollywood assembled an all-star cast and crew to adapt the books to an English-language film that directed by David Fincher and starring Daniel Craig. A then up-and-coming Rooney Mara was selected to play the part.
The film did solid business but wasn't a record-breaking hit by any means, and any plans for a sequel just sort of quietly petered out. Though, the novel series remains incredibly popular so Hollywood is, unsurprisingly, trying again.
Foy will star in an adaptation of The Girl in the Spider's Web, a continuing of Larsson's original Millennium trilogy written by David Lagercrantz. Unlike the Fincher/Rooney film, the novel had not been previously adapted in Swedish. Don't Break director Fede Alvarez will helm the project, but no further casting has been announced. There is already a possibility for a sequel, as Lagercrantz's The Girl Who Takes an Eye for an Eye was released worldwide just last week.
Foy will exit The Crown after next season as the series jumps ahead to portray the life of Queen Elizabeth II in later decades, but her film future seems secure. She's already finished filming on Steven Soderbergh's Unsane, and is already cast in First Man, director Damien Chazelle's La La Land followup that will also feature Ryan Gosling.
Spider's Web has the making of Foy's first blockbuster and almost guarantees that we'll be hearing a lot more from her in the future. Mara's take on Salander certainly helped to make her a star.
Related: The Crown's Claire Foy On the Struggles of Being a New Mom and an Actress
Claire Foy Was Very, Very Pregnant When She Auditioned for The Crown: