Five Minutes With Clare Bowen
The Australian actress chats with W about her love of horses, how she nailed her natural-sounding Mississippi twang, and the song that landed her the part in Nashville.
---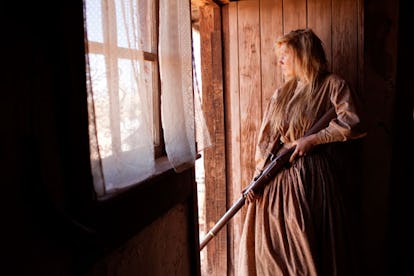 Over the past few months, fans of ABC's Nashville have watched sparrow-voiced Scarlett O'Connor blossom from a waitress at The Bluebird Café to a bona fide songstress on the brink of stardom. Clare Bowen, the actress who plays the Southern Scarlett, surprisingly hails from Down Under. Her new turn as Martha in the dusty Western Dead Man's Burden, opening this Friday, finds the actress as a tough-talking, gun-wielding woman in 1870's New Mexico. Here, the Aussie chats with W about her love of horses, how she nailed her natural-sounding Mississippi twang, and the song that landed her the part in Nashville.
In the opening scene of Dead Man's Burden, you're holding a gun and acting very unlike your Nashville character Scarlett O'Connor. What drew you to the role of Martha? I found this amazing script with a strong female character. It was really exciting getting to ride horses every day and being out in the wilderness, and to learn about a totally different culture. The writing was so beautiful and the landscape sounded so terrifying; I just wanted it.
Did you have to learn how to ride a horse? No, I used to muster the cattle before I started acting full-time. I actually ended up working with a wrangler —Tom Berto who did The Missing with Cate Blanchett—because he was a bit short-handed. We drove cattle on the edges of inland Australia, in the mountains and stuff like that; you drive them from station to station. It's kind of an unusual job, not many people do it any more. So that was lovely, I got to be with beautiful animals every day and wonderful people.
What was the most challenging part of filming? I didn't learn about the Civil War growing up in school and I had to make sure that I knew what I was talking about. It was such an honor as a foreigner to be given that role—I just had to make sure that I was doing what had to be done, that I knew my shit, basically.
A lot of people may not know you're from Australia. How did you nail the Southern accent that you have in the movie and in Nashville? Thank you! Well, Martha's Texan. I love Westerns. I didn't watch a lot of television growing up, but I did watch a lot of films. My favorites were Fried Green Tomatoes, things like that. I didn't have any accent training, so I learned by listening, which is just the way it works for me. So I don't know the technical stuff, but I know what it sounds like and what it feels like, that's kind of the way I work.
How did you get involved with Nashville? After I did Dead Man's Burden, I was back in LA for about three days and I was picked up by a wonderful agency who has just been fantastic, and they said "Well you'd better come back out for pilot season." About two weeks in I got Callie Khouri's script for Nashville, and I thought, Oh my goodness, this is amazing. It was kind of that same thing with Dead Man's Burden. I thought, I am just going to have to go in and be really relaxed and loose and just do it. I came in with Scarlett sounding the way she sounds and they kept it, they kept her from Mississippi.
I love the music on the show too. Do you like country music? Yeah, mostly love bluegrass. I didn't know a country song to sing when I went into the casting so I just sang an Australian folk song. I had to learn a country music song for the second time I went in to sing for Callie. I sang, "In The Arms of The Angels" by Sarah Machlachlan.
What kind of music do you listen to in your free time? Everything, I love country. There's nothing I don't love. Big mix. Hank Williams, Edith Piaf, Ella Fitzgerald, Etta James. Elvis. I love Elvis, that's like the Bible. Billie Holliday, Elvis Costello. T-Bone [Burnett]'s stuff is so beautiful. I like The Lumineers, Edward Sharpe, Mumford and Sons—that stuff as well. I am really an open book when it comes to music, there's nothing that I won't at least listen to.
What's your favorite thing to do in Nashville? Gosh, sing, perform; just hang out. There's so much to do. I've found a wonderful place where I can ride horses—they're all rescues—so I get to take one of them out for a few hours every now and then.
Do you and the other actors ever perform off screen? Yeah we do, it's quite fun. I like to do as much for charity as I can. We've been accepted into this amazing culture here. Some of the most talented musicians in the world live here, and when one of the most talented musicians in the world asks to write with you, or asks to sing with you, or asks you to sing on one of their songs, it's one of the biggest honors in the world. I got a call from Elvis Costello the other day. I was like, Are you joking? That's the kind of thing we do here, it's just the biggest privilege.
Would you ever want to put out a solo album of originals or covers? Yeah, definitely. I'm a big collaborator, I don't think I am genius enough to put my own entire album out of entire music. I'm a social creature. It's like having a party on your own—I'm not ready for that yet, I'm not experienced enough to do it on my own yet. I'm writing with my brother, Timothy Bowen, who's visiting me at the moment. And finding songs because there are so many talented people out there and so when they give you song it's such an honor, but I think that's the way I work. T-Bone and I are working on some stuff and that's exciting.
How is Nashville different from LA? It's the South, so it's very different in that respect. There's definitely something to be said for Southern hospitality, but then again when I went to LA people were so lovely, everyone's very welcoming there as well. I think people are more slowed down here; people take time to appreciate stuff. I find it to be more of a creative atmosphere here, but maybe that's just me and maybe I haven't been exposed to that yet [in LA]. It's quieter out here and there is a wonderful appreciation for other people's art, which I think is important.
Do you relate to Scarlett or is she very different from you? It's a bit of both; there are a lot of things that Scarlett's going through, especially in the pilot, which we kind of went through at the same time. It's difficult if you're pursuing a similar career with someone that you're close to. She's on this huge journey and so am I, not just on a relationship level, on a whole life thing. It's a metamorphosis, getting validation, 'Oh god I can do this.' Now at the end of the season, Scarlett has a little bit of the ambition that I have. She's in it now, so we're a lot more similar now than we were in the beginning. She still has a lot of growing to do.
What's your relationship with Connie Britton? She's so lovely. It's wonderful to have, a seasoned professional such as her, she's just a really wonderful person to talk to, to hang out with. I really enjoy her company immensely. I've sort of learned a lot by watching her, I didn't know a lot about American television, but Friday Night Lights is really, really popular in Australia. She's a really lovely person and you know I think she's really taken the role of Rayna on beautifully.
Has the show been renewed for a second season? I think we would have heard if we had gotten an official pickup. It's sort of a bit of a secret at the moment, but we're very excited.
Photos: Dead Man's Burden: Philip DeJong; Nashville: Katherine Bomboy-Thornton/ ABC Media