Clare Vivier Carries Multiple Clutches, Loves Charlotte Gainsbourg
The accessories designer shares a page from her style notes.
---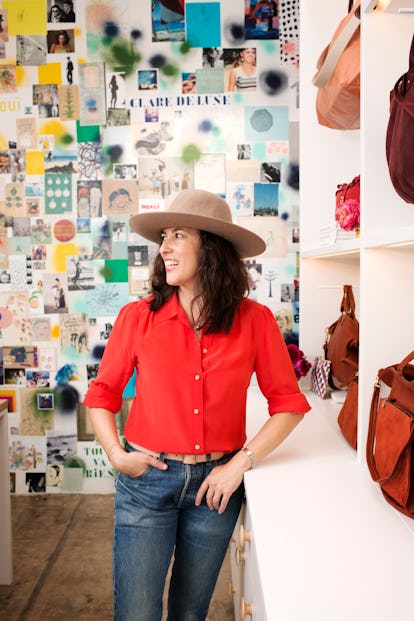 With three chic boutiques—one in New York's Nolita, the others in California (Santa Monica and Silverlake)—and a stylish clientele that includes stars of both the street style and the silver screen variety, accessories designer Clare Vivier knows a thing or two about personal style. Here, she shares her secrets—from the best vintage stores to exactly how many leather pouches to carry at any given time.
Define your style in three words: Tomboy, chic, mood-based.
Daily uniform: Button down, high-waters (cropped pants), loafers or sandals with socks, delicate gold jewelry from my friends, CV bag.
Greatest hits: Saint Laurent pointed patent leather lace-up ankle boots, a statement jacket, my black leather jacket, men's vintage Wranglers, a vintage silk Lanvin blouse.
Preferred footwear: Flats or a small heel. I actually can't go out at night if I don't have a heel on. I love loafers or brogues.
Finishing touches: My Maya Brenner and Grace Lee necklaces, my Grace Lee gold cuffs, and my coral vintage gold ring. I love hats and scarves, too; I have a hat wall in my closet. Right now I love my Westerlind hat and have it in three colors: tan, black, and brown. I'd get it in navy too if I could.
Nighttime look: Black jeans and a leather jacket. Heel height depends on where I'm going.
Best recent discovery: The feathered brow by Kristie Streicher and the rest of her products.
Favorite stores: Ofr, the book store in Paris; Boon the Shop, a men's wear store in Korea; and I always love the treasures I find at Sweet As Vintage in Echo Park.
Style pet peeve: I don't love a maxi skirt or bags that hang too low.
Style icons: Emmanuelle Alt, Charlotte Gainsbourg, Wes Anderson.
Last purchase: Rachel Comey Legion jeans.
Lusting after: A vacation somewhere in Mexico where it's beautiful and I can go hiking and play tennis.
Favorite haunts: Sqirl in Silverlake, Buvette in Paris, Chi Spacca in L.A., and Le Verre Volé in Paris.
What's always in your bag: Too much— my iPhone, my Macbook Air, my moleskin notebook, and a couple of clutches (one containing makeup and another containing credit cards, money and my card case, Advil, eye drops).
Photos: Clare Vivier Carries Multiple Clutches, Loves Charlotte Gainsbourg
Portrait by Amanda Marsalis, courtesy of the designer.
A few of Vivier's favorite rings. Courtesy of the designer.
Vivier vintage shopping. Courtesy of the designer.
Vivier and her son. Courtesy of the designer.