Virginie Courtin-Clarins Doesn't Need to Swipe Clarins Products from Air France
The heiress to the Clarins beauty empire schools us on traveling in style like a seasoned pro: Cap Ferret in the fall is a do, Saint-Tropez in the summer is a definite don't.
---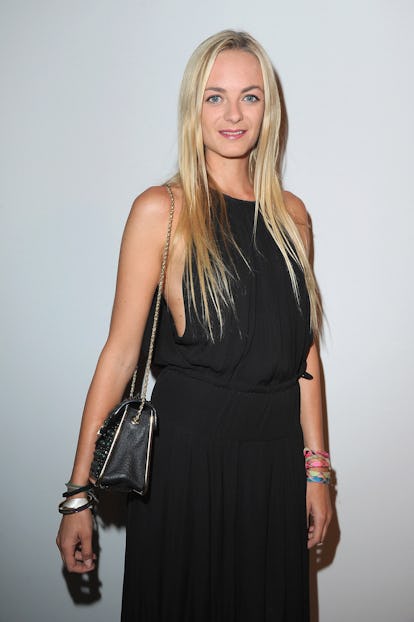 Getty Images
French It girl Virginie Courtin-Clarins is no stranger to the jet-set lifestyle. As one of the Clarins beauty empire heiresses, she spends plenty of time on planes, trains, and yachts both for work and play. At the moment, however, she's busy as the house of Mugler, where she handles development, communication, and marketing, prepares for its forthcoming Spring 2017 runway show in Paris. Here, she talks to W about all things travel, from her favorite hotel in the world to the best airport lounge.
Favorite mode of travel? Plane, because it's a moment when I don't have my phone or emails so I can spend some time reading, thinking and being disconnected from the crazy world.
Go-to travel outfit: I always wear an Acne jeans, a Mugler top and jacket and my pair of Nike shoes.
Best or worst person you have ever been seated next to on a plane? The best is to travel with my husband because we like the same things. The worst is to be seated next to someone who is too noisy.
Best freebie you've stolen off a plane? I usually take Air France so I always have the pleasure to have a Clarins product in the bathroom and in the kit, but I don't need to steal them. What I love to keep is the sleeping kit with the earplugs and mask.
What's your fall vacation destination? For fall, I love to go to Cap Ferret in the southwest of France. I love to ride a bike to go to the ocean. My favorite restaurant is Chez Hortense, they have the most amazing recipe for mussels.
Best beauty products for travel? I always carry a Beauty Flash Balm from Clarins when I travel; it makes you look fresh instantly.
Go-to swimwear brand? Luz Collections.
What's a big packing mistake to avoid? To take too many options with you, because you always end up putting on just a few things and it's always good to keep some extra space in your luggage in case you want to do some shopping while you are there.
Best souvenir you have ever picked up on a trip? I love to collect magnets of places I have visited. I already have an amazing collection.
Favorite airport lounge or restaurant? The Air France First class lounge at Charles de Gaulle airport in Paris.
Airline with the best or worst food? I am not a big fan of burgers or heavy food in planes. I think the worst food is in the low-cost airlines where you have to pay to get bad food.
What's your favorite hotel in the world? My favorite Hotel is the Borgo Egnazia in Puglia in Italy because it's beautiful, located in a part of Italy that is not touristy, and you feel like you are in a different world and time when you stay there. Also, I got married in this hotel so it's very special to me.
Favorite off-season destination? Saint Tropez when it's not summer, it's just perfect.