Cashmere Lover Claudia Schiffer Finally Has Her Own Line
The model-turned-fashion designer talks about her collaboration with cashmere company TSE.
---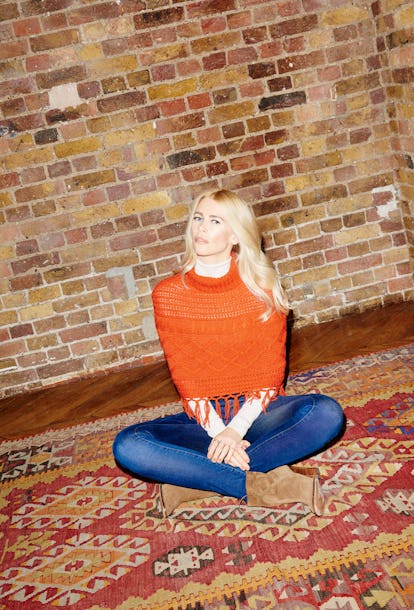 Within her lengthy career, Claudia Schiffer—who just turned 46—has been the face of Chanel and the body of Guess, and has landed more magazine covers than any other supermodel (over 500). But all along the German beauty dreamed of designing clothes. "It's something I've wanted to do since I was a teenager, doodling dresses and jumpers at home," she says. Schiffer got the opportunity to do just that when the cashmere company TSE enlisted her to collaborate with them on two collections beginning last fall. Their success has now led to her own 40-piece knitwear line, which launches today on Stylebop.com.
What is it about knitwear that you love so much? I've always loved cashmere for its softness and coziness. As a teenager I used to always borrow my parent's cashmere sweaters; I still have one from my father, which looks new because it's so luxurious.
With all your years of modeling, you must have a great collection of designer knits. Yes, but my favorite are the vintage hand-knit arans that I have collected over the years. I love to wear a traditional Guernsey (fisherman sweater) over skinny jeans with high suede boots. These pieces are 30 years old but look like I bought them yesterday.
What drew you to design a collection? I've worked hard to get to the top of the fashion business and now I have the luxury of doing what I love. I can now create what I can't find and what I—and others—need. This knitwear collection is based around the three C's: cozy, chic, cashmere.
Where did you look for inspiration? I was inspired by the colors, scents and textures from a recent trip to Southern Spain: sunset red, burnt orange, sky blue accented with soft cream and caramel, motifs from heirloom-patterned rugs, mosaic tiles and amazing textiles.
What will you wear your sweaters with this fall? I'll layer a fine-rib rollneck under a fair isle yolk sweater with skinny jeans from MiH and an amazing pair of bordeaux suede boots from Aquazzura. I'll add fun accessories like animal rings from Solange Azagury-Partridge, thin bangles from Missoma and a patchwork suede bag from Chloe. Instead of wearing a coat I'll throw on one of my cozy cashmere ponchos. My favorite style from the collection is the bright red fisherman crewneck.
What's on your fall wishlist? Sandro checked blazer, Balmain corset, MiH denim shirt and flared jeans, Frame skinny jeans.
See Claudia Schiffer model the collection here:
Claudia Schiffer Models Her Own Cashmere Collection
Watch W's most popular videos here: