Clémence Krzentowski, Paris
For this design gallerist, fabulousness is all-encompassing.
---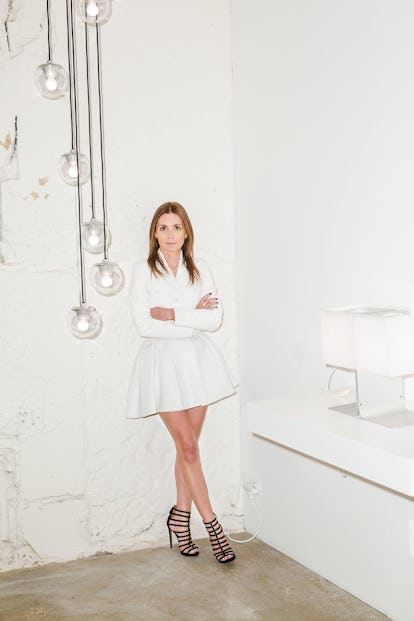 When asked to describe her personal style, Clémence Krzentowski says that she likes "comfortable, feminine, easy-to-wear clothes." Translation: Azzedine Alaïa is the only label she'll be caught dead in. And when it comes to all other forms of design, Clémence, who with her husband, Didier, owns Galerie Kreo in Paris's Saint-Germain-des-Prés, is just as exacting in her taste. For more than 15 years, the couple has operated a sort of laboratory, allowing the world's most uncompromising designers to explore their wildest—and, quite often, least commercially viable—ideas, developing them into exclusive pieces for the gallery. (Another translation: Kreo means "creation" in Esperanto.) Produced in editions of eight to 12, these series have included colorful Dragonfly coffee tables by Hella Jongerius; Konstantin Grcic's sexy, industrial Man Machine glass shelf that adjusts with the aid of a pneumatic piston; and elemental -stacking tables in cool Carrara marble by Jasper Morrison. The Krzentowskis are not just dealers; they are also consummate collectors (their first show, in 1999, was made up of pieces they had acquired in duplicate by designers like Pierre Paulin, Joe Colombo, and Verner Panton). Over the years, Didier has amassed a significant trove of 20th-century lighting, a selection of which was on view in the Paris gallery earlier this year as part of the exhibition "La Luce Vita" (Clémence is flanked here by a 1958 pendant light by Gino Sarfatti and a 1965 lamp by Etienne Fermigier) and also at the couple's recently opened London outpost, where a single designer took the spotlight. Clémence, it seems, isn't the only one with a favorite: "Sarfatti was a real genius and innovator," she says. "And he's Didier's hero!"
Hair by Benedicte Cazau-Beyret at ArtList; makeup by Gregoris Pyrpylis for Calliste. Fashion Assistant: Aezane Pecnard.