Where To Eat, Shop, and People Watch in New Orleans, According to Poet Cleo Wade and Her Mom
Just in time for Jazz Fest.
---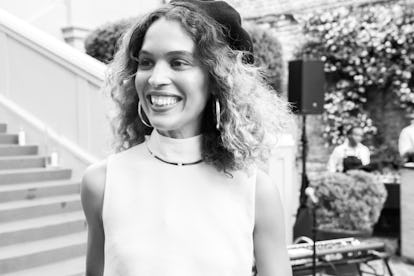 Poet Cleo Wade currently resides in New York, but the New Orleans native regularly returns to her hometown to see friends and family, and, of course, enjoy the city's vibrant food scene. Most recently, Wade was in New Orleans to celebrate Jazz Fest, and host a pop up event for the New York-based label Yestadt Millinery, as part of a partnership between the CFDA Fashion Incubator and W Hotels. After the event, Wade revealed her favorite hot spots in New Orleans, with some special advice from a current resident: her mom.
Favorite place for coffee or breakfast:
Cleo: Merchant has the best macha. Satsuma has the best breakfast.
Cleo's Mom: PJs Coffee.
New Orleans food staple you can't live without:
Cleo's mom: Fried chicken, gumbo.
Best place to take a visitor for drinks or dinner:
Cleo's mom: My house.
Cleo: My mom's house.
Go-to lunch spot:
Cleo: Café Amelie. It is my favorite restaurant in the city and the perfect way to spend an afternoon.
Cleo's mom: Cafe Degas.
Favorite dessert:
Cleo's mom: Bread pudding soufflé from Commander's Palace
Cleo: Before I was vegan, that bread pudding was my go-to! Also it is the most charming restaurant. Perfect for family dinner or date night.
Best poboy:
Cleo's mom: Shrimp poboy.
Cleo: French Fry poboy or I go to dat dog for their spicy vegan sausage sandwich.
Favorite date night restaurant:
Cleo's mom: Italian barrel
Cleo: Yum, Italian barrel is so good or Bacchanal.
Best place for people watching:
Cleo: Jackson square or if you hop on your bike and ride through the French quarter and the Bywater you will definitely get some good people watching in.
Cleo's mom: River front.
Favorite place to listen to live music:
Cleo: The Spotted Cat.
Cleo's mom: Tipitinas.
Favorite cocktail bar:
Cleo: Loa at the international house. It's so beautiful and they make the most creative cocktails.
Cleo's mom: Cure
Best after-hours spot for drinking or dancing:
Cleo's mom: My kitchen.
Cleo: Hi Ho lounge.
Most beautiful street:
Cleo: All of the streets in the Bywater.
Cleo's mom: St. Charles Avenue.
Favorite neighborhood to walk in:
Cleo's mom: Carrollton
Cleo: I love them all.
Favorite museum or gallery:
Cleo's mom: Sculpture garden at New Orleans Museum of Art
Cleo: My father has an art gallery in his house that you can arrange an appointment with to see all of his historic photography. It is a really special experience. It is also fun when I get to go home to see him, because I never know who might be at the house! Also, the Contemporary Art Museum is the most my happy place in New Orleans, I have been going since I was in grammar school. Bmike's Studio Be, is probably the coolest place to see art in new Orleans. Him and I also have a collaboration together on the front of one of his building.
Any beloved local artists?
Cleo's mom: Neville Brothers, Kirmit.
Cleo: I love Charmaine Neville.
Favorite stores:
Cleo: Lilli Vintage is my favorite vintage store in the world. I go in every time I am in town and Krewe for amazing sunglasses.
Cleo's mom: Aux bell choes, Katy Koch.
Best hidden gem:
Cleo: BMike Studio Be.
Cleo's mom: Dominica happy hour.
Local motto you live by:
Cleo's mom: Vive la difference
Cleo: "Until further notice…celebrate everything" I saw it on a sign in someones yard in New Orleans a few years ago.
Anthony Mackie Didn't Hide His Heavy New Orleans Accent When He Auditioned for Julliard