Clive Owen Is Available to Make You a Drink
While mixing drinks for The Young Pope creator Paolo Sorrentino in Rome, the actor shares what else he's been up to with his culture diet.
---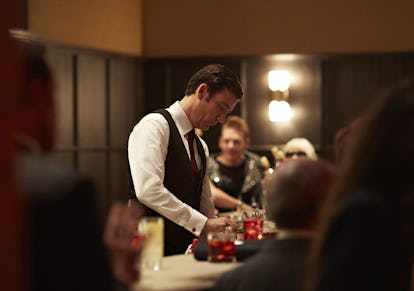 Courtesy of Campari
The moment Clive Owen arrived in Rome in September, he was whisked off to a speakeasy. Paolo Sorrentino, the Italian director behind The Young Pope, had tapped him to star in his new short film for Campari—despite Owen's complete lack of bartending experience. "I got very good very quickly," Owen recalled on a recent afternoon in Rome, where he was back in town for the unveiling of Killer in Red, which is at the center of Red Diaries, Campari's reimagining of its yearly calendar. The Italian brand's new take on its usual sumptuously shot, still campaign also meant Owen was joined by 12 real-life bartenders, who each told a story behind their own carefully concocted cocktail—not that Owen had any trouble keeping up with the professionals. "I was actually my own hand double," he added modestly.
Between all that, Owen hasn't caught up on The Young Pope yet—or even "gotten around to" the second season of the The Knick, the Cinemax series which has him caught up in another type of mixology as a drug-addicted surgeon in early 20th-century New York. He is, however, a fan of Sorrentino's The Great Beauty, another tale of Roman indulgence that won the 2013 Oscar for Best Foreign Film, whose over-the-top dance scenes he was happy to discover ended up making it into the film noir-ish Killer in Red, too. "It was pretty great seeing Sorrentino in full flow, with '80s club atmosphere and the music pumping," Owen said of the short, which has him serving up the titular chamomile gin-spiked Killer in Red drink to the French-Swiss actress Caroline Tillette, who stars as a fittingly red-clad femme fatale. Before getting ready to down one later that night himself, he shared what else he's been imbibing with his culture diet, here.
First thing you read in the morning: The BBC news website, and the football gossip.
Books on your bedside table: At the moment, I'm reading a book about Adolph Eichmann to do with a project I might do. I've got a few of them.
The TV shows keeping you up at night: I don't watch much TV, I have to be honest with you. The only thing I watch religiously is Curb Your Enthusiasm, and that I will watch as soon as I can get my hands on it. But I honestly have not watched any of these TV shows. I prefer watching movies.
Last movie you saw in theaters: Moonlight, which I loved, and I'm rooting for heavily. I think it was really beautifully acted and beautifully directed.
Last thing you saw at the theater: The musical of Groundhog Day. It was great, and it's going to New York. It's by the same team that did Matilda.
Last piece of art you bought, or ogled: I'm very into this artist called George Shaw. It's quite strange. I [came across] him years ago in a thing about the Turner Prize and I thought, God, that really reminds me of growing up. That's all I thought when I saw this image of one of his paintings. And I went online, and he's the same age as me and comes from my hometown, Coventry. He paints pictures from a lot of photographs, and a lot of them are from the '80s. The last two years he was the resident artist at the National Gallery, but it's just quite bizarre because his work is really personal to me. I kind of know not only the place, but it's also a time when I was there before I left to go to drama school. So I collect some of his work.
Last museum exhibition that you loved: My youngest daughter's really into photography, and I went to SF MoMA's photography exhibition, and also to the one in Portland, Oregon, when I was there for a wedding.
Release you're most eagerly anticipating: The National's new album. They're just finishing it now, apparently, so it shouldn't be too long.
Go-to spot in Rome: The Jerry Thomas Project, where they whisked me off to to show me how to make the Campari cocktails, has to be the best. It's a very cool little bar.
Last concert you saw live: I went to see Radiohead at the Roundhouse in London just a few months ago and was blown away.
How you get your news: Newspaper. Typically The Guardian.
Favorite social media accounts to follow: I do no social media whatsoever. I'm not interested in either reading about or telling people what I'm doing every half an hour. [Laughs.] I don't understand the need to watch or see what people are doing every day, all day.
Cocktail of choice: Having got into the Campari cocktails, the Boulevardier is the new favorite. I've forgotten what's in it, but I drank a few last night, I know that. [Laughs.] Definitely Campari, and I think a bit of bourbon and vermouth.
Last thing you do before bed: Brush my teeth.
See W's most popular videos: