Clotilde de Kersauson Starts a New Chapter
The London-born socialite is doing it all.
---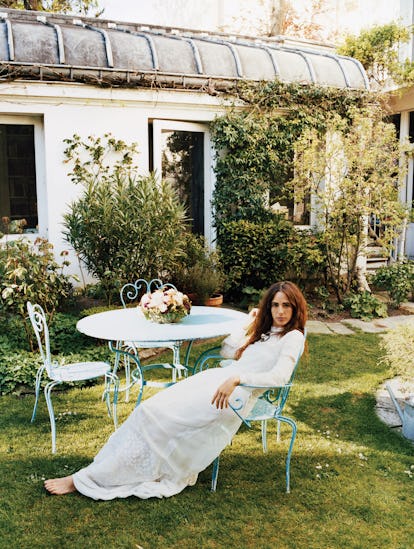 Photographer: Angelo Pennetta Stylist: Gianluca Longo
Clotilde de Kersauson thrives on change. The 33-year-old was born in London, raised in Paris, and did a five-year stint in Sydney with her now husband, Arthur de Kersauson. She studied sculpture at the Chelsea College of Arts in London, then switched to textiles and opened a studio in Sydney. Upon moving back to Paris eight years ago, she segued to knitwear, but after her daughter was born in 2009, she started a food blog. Then it was on to Empanadale, a catering company specializing in empanadas. It's an unexpected direction for a woman with so much fashion in her blood. Her mother, Gwendoline Bemberg, worked for Vogue and Emanuel Ungaro; her maternal grandmother, Dreda Mele, was the director of Givenchy in the 1950s; and her father, Luigi d'Urso, was married to the model and muse Inès de la Fressange. As a teenager, de Kersauson made the social rounds tricked out in Ungaro. "At the time, I thought it was a drag," she recalls. "But now, looking back, it was quite a lot of fun."
Hair by Luke Hersheson at Art + Commerce; makeup by Gemma Smith-Edhouse at LGA Management. Photography assistants: Jack Day, Rob Willey. Fashion assistants: Garance Chaplain.