Forget Studio 54 and Mudd: Club 57 Was Where Things Really Went Down In Underground New York
A new MoMA exhibition revisits the work of the club's talented regulars.
---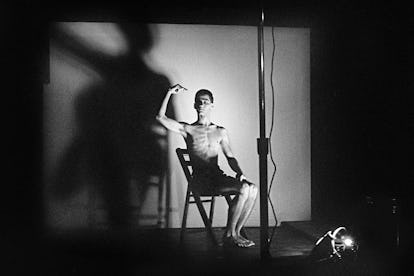 Joseph Szkodzinski/courtesy of the artist
Mick Jagger never went there. Andy Warhol never mentioned it in his diaries. But in the late 1970s and early 80's, Club 57 was arguably the most transgressive downtown ­Manhattan venue of all. Located in the basement of a Polish church on St. Marks Place, the scrappy multidisciplinary hot spot—equal parts performance and exhibition space, cinema, and misfits' rec room—was literally underground. Though overshadowed by more fabled New York dens of iniquity, it helped to launch the careers of Keith Haring, Kenny Scharf, and Klaus Nomi, among others.
Beginning October 31 (through April 1, 2018), the Museum of Modern Art unveils "Club 57: Film, Performance, and Art in the East Village, 1978–1983." Curated by Ron Magliozzi and Sophie Cavoulacos, the exhibition revisits the work of the club's better-known regulars, alongside that of free spirits like the artist John Sex, who created many of its posters and flyers; the dancer and fashion designer Shawn McQuate, better known as AMMO; and the photographer Tseng Kwong Chi. For artist Ann Magnuson, the venue's original performance director and the show's guest curator, Club 57 "is like a memorial for creative freedom and all these amazing cultural shape-shifters, many of whom left us before they were afforded the recognition they deserved."
Vintage Halloween Pictures Prove It Was Always Provocative
A guest in a sequined patriotic costume makes and entrance at "Magic, Fantasy and Dreams," a costume-ball benefit for the Skowhegan School of Painting and Sculpture.

Machalaba Nick
Arts marketing consultant Stephen Reichard and Colette arrive in a hospital bed at "Magic, Fantasy and Dreams," a costume-ball benefit for the Skowhegan School of Painting and Sculpture.

Machalaba Nick
Halston and his Rabbit-ettes (Nancy North, Pat Mori, and fashion illustrator Joe Eula) arrive at "Magic, Fantasy and Dreams," a costume-ball benefit for the Skowhegan School of Painting and Sculpture.

Nick Machalaba
Fashion designer Halston with one of his Rabbit-ettes at "Magic, Fantasy and Dreams," a costume-ball benefit for the Skowhegan School of Painting and Sculpture.

Machalaba Nick
A guest in a plastic bikini and skirt makes an entrance at "Magic, Fantasy and Dreams," a costume-ball benefit for the Skowhegan School of Painting and Sculpture.

Machalaba Nick
Guests at "Magic, Fantasy and Dreams," a costume-ball benefit for the Skowhegan School of Painting and Sculpture.

Machalaba Nick
Guests at "Magic, Fantasy and Dreams," a costume-ball benefit for the Skowhegan School of Painting and Sculpture.

Machalaba Nick
Guests at "Magic, Fantasy and Dreams," a costume-ball benefit for the Skowhegan School of Painting and Sculpture.

Machalaba Nick
Guests at "Magic, Fantasy and Dreams," a costume-ball benefit for the Skowhegan School of Painting and Sculpture.

Machalaba Nick
Guests at "Magic, Fantasy and Dreams," a costume-ball benefit for the Skowhegan School of Painting and Sculpture.

Machalaba Nick
Early paparazzo Ron Galella at "Magic, Fantasy and Dreams," a costume-ball benefit for the Skowhegan School of Painting and Sculpture.

Machalaba Nick
Model Jerry Hall in a sequined gown at "Magic, Fantasy and Dreams," a costume-ball benefit for the Skowhegan School of Painting and Sculpture.

Machalaba Nick
Sally Gilbert and Randolph Griffin at "Magic, Fantasy and Dreams," a costume-ball benefit for the Skowhegan School of Painting and Sculpture.

Machalaba Nick
A rabbit-ette helps another partygoer adjust her costume at "Magic, Fantasy and Dreams," a costume-ball benefit for the Skowhegan School of Painting and Sculpture.

Machalaba Nick
Guests in pirate and samurai costumes at "Magic, Fantasy and Dreams," a costume-ball benefit for the Skowhegan School of Painting and Sculpture.

Machalaba Nick
Guests at "Magic, Fantasy and Dreams," a costume-ball benefit for the Skowhegan School of Painting and Sculpture.

Machalaba Nick
Guests in metallic costumes dancing at "Magic, Fantasy and Dreams," a costume-ball benefit for the Skowhegan School of Painting and Sculpture.

Machalaba Nick
Nicky and Kenny Lane at "Magic, Fantasy and Dreams," a costume-ball benefit for the Skowhegan School of Painting and Sculpture.

Machalaba Nick
Guest plays the tambourine at "Magic, Fantasy and Dreams," a costume-ball benefit for the Skowhegan School of Painting and Sculpture.

Machalaba Nick
Guest plays the tambourine at "Magic, Fantasy and Dreams," a costume-ball benefit for the Skowhegan School of Painting and Sculpture.

Machalaba Nick
New York Young actress Brooke Shields, dressed as comedian Charlie Chaplin, skates through Wednesday's Disco as she joins others at a Halloween party here, 10/30.

Bettmann
Guests in costume at "Magic, Fantasy and Dreams," a costume-ball benefit for the Skowhegan School of Painting and Sculpture.

Machalaba Nick
Guests wearing harlequin masks at "Magic, Fantasy and Dreams," a costume-ball benefit for the Skowhegan School of Painting and Sculpture.

Machalaba Nick
A man dressed in a loincloth and a woman wearing a Flamenco costume talk during the Haloween party at the nightclub Studio 54, New York City, October 31, 1981.

Tom Gates
31st October 1981: High-angle view of the crowd dancing at Studio 54 in New York City. Some dancers wear Halloween costumes.

Tom Gates
Twiggy and Tommy Tune during "My One And Only" – Closing Night Halloween Party at Mark Ballroom in New York City, New York, United States.

Ron Galella
A pair of clubgoers dressed as punks lie on the floor at Studio 54's third annual Halloween party, New York, New York, October 31, 1978.

Allan Tannenbaum
Outside Studio 54, an unidentified would-be clubgoers arrives on a horse for the third annual Halloween party, New York, New York, October 31, 1978.

Allan Tannenbaum
During the third annual Halloween party at Studio 54, costumed women laugh atop the shoulders of their male companions, New York, New York, October 31, 1978.

Allan Tannenbaum
A pair of clubgoers dressed in Egyptian-style costumes attend the third annual Halloween party at Studio 54, New York, New York, October 31, 1978.

Allan Tannenbaum