Reese Witherspoon and Kerry Washington Both Came Close to Starring in Clueless
Clueless, a linchpin of '90s cinema, could have looked a lot differently if it had starred Reese Witherspoon and Kerry Washington.
---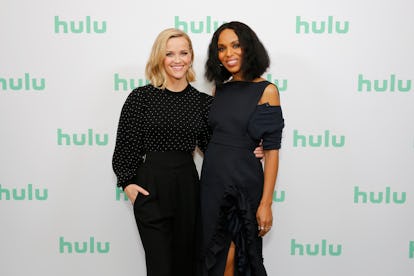 Photo courtesy of Getty Images.
Clueless, a linchpin of '90s cinema, almost looked a lot different.
According to Reese Witherspoon and Kerry Washington, who have been promoting their new Hulu series Little Fires Everywhere, both of the acclaimed actors actually auditioned for Amy Heckerling's 1995 film.
"I auditioned so hard for Clueless and I didn't get it," Witherspoon revealed to BuzzFeed. "I did too!" Washington admitted, before suggesting they try their hands at a remake of a scene from the classic film.
It is widely recognized (or at least it should be) that the '90s film canon is not complete without the addition of Clueless, but for a moment just imagine the alternate universe in which Witherspoon and Washington received top billing. Tracy Flick and Cher Horowitz exist along the same spectrum of irritating privileged teens, and you know Witherspoon would have delivered that "It does not say RSVP on the Statue of Liberty" line with panache. Maybe then the film would finally be situated in the Criterion Collection, which is where it belongs after all these years.
The iconic lead roles of Cher Horowitz and Dionne Davenport went to Alicia Silverstone and Stacey Dash, but Heckerling has confirmed that she did meet with Witherspoon for the role before it went to Silverstone.
"I had my heart set on Alicia," Heckerling said in an oral history that was published for the film's 20th anniversary in 2015. At the request of the studio, however, she saw some other then up-and-coming actresses for the role of Cher, including Alicia Witt, Tiffani Thiessen, and Keri Russell. The director was supposed to meet with Gwyneth Paltrow, too, but she ghosted her.
By the time Witherspoon met with Heckerling, at a bar in the Four Seasons in L.A., the director did think she was "amazing" but couldn't resist giving the role to Silverstone instead. The director also revealed that Ben Affleck came close to nabbing the role of Josh, which instead went to Paul Rudd, and Dave Chappelle was almost cast as Dionne's boyfriend Murray, but instead the role went to Donald Faison.
There is one character, however, who was never going to be played by anyone other than Heckerling's initial pick: Tai was always Brittany Murphy. "When I met Brittany, I was like: 'I love her. I want to take care of her,'" Heckerling said. "She was just so bouncy and giggly and just so young. I mean, when you saw her, you just smiled."
Everything happens for a reason, though—Washington and Witherspoon went on to star in other late 20th century flicks that ultimately catapulted their careers to stardom, and made them the producing powerhouses they are today. At least they ended up working together anyway on Little Fires Everywhere—not only as co-stars, but as co-producers of the television adaptation of Celeste Ng's novel of the same name.
Related: Reese Witherspoon and Kerry Washington Are Incensed in the Little Fires Everywhere Trailer