Coach Just Bought Kate Spade New York for a Cool $2.4 Billion
To help target younger consumers.
---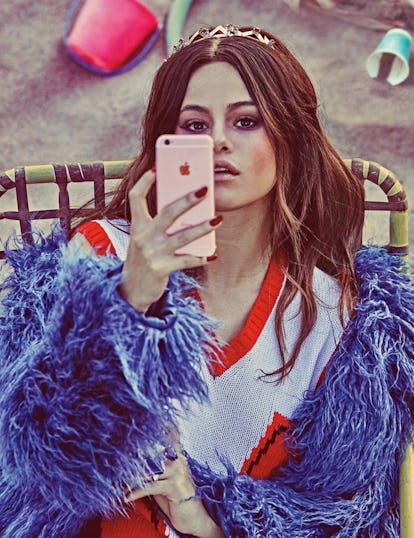 The French have long enjoyed a monopoly on luxury fashion conglomerates, but Coach is aiming to create a similar luxury group in America. The company announced Monday it reached a deal to acquire fellow American lifestyle brand Kate Spade New York for $2.4 billion.
While Coach plans to preserve Kate Spade's "brand independence," the acquisition aims to create a leading luxury lifestyle company. Specifically, Coach targeted Kate Spade for its strong brand awareness among younger consumers, "especially millennials," the label said.
"Through this acquisition, we will create the first New York–based house of modern luxury lifestyle brands, defined by authentic, distinctive products and fashion innovation," Victor Luis, the chief executive of Coach, said in a statement.
Rumors that Kate Spade was up for grabs first surfaced in November 2016, when a hedge fund declared the company "undervalued" on the stock market and a relative bargain. Michael Kors and Coach both emerged as possible buyers but Coach reportedly stood out particularly due to its long-term plans for strategic growth and cash on hand. Additionally, in February, Kate Spade confirmed it was considering "strategic alternatives" for the company's future.
Coach is in the midst of both an image and business makeover. In 2014, Stuart Vevers, formerly of Loewe and Mulberry, was brought in as the brand's new executive creative director, and was charged with emphasizing the brand's history of luxury and establishing he brand as a ready-to-wear clothing player as well. In conjunction, the brand also decided to greatly pull back on the amount of merchandise it sold at midlevel department stores, and put more of an emphasis on its own retail and online sales efforts. Selena Gomez was also brought in as the new face of the brand after singing a deal rumored to be worth $10 million. Indeed, Gomez showed up in a custom Coach gown at last week's Met Gala.
Meanwhile, Coach's business plans now extend beyond its namesake brand. In addition to the Kate Spade acquisition, the company also most recently purchased Stuart Weitzman in January 2015 for $574 million.
Luxury conglomerates are par for the course in Europe. French companies LVMH and Kering combined own a murderer's row of luxury fashion brands, but an American company has never matched that fire power. Sure, PVH Corp. owns both Calvin Klein and Tommy Hilfiger, but their portfolio isn't completely dedicated to luxury. Coach is now quite open about being the first American company to take a page out of that French fashion business playbook and consolidating familiar luxury brands under one ownership group.
Related: LVMH Purchases Christian Dior for $13.1 Billion
See What's Trending in W Video: