Kanye West, Leonardo DiCaprio Party on Night One of Coachella
Calvin Klein and Nylon threw the two hot-ticket parties.
---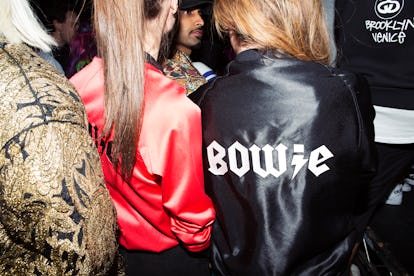 "There are so many parties going on," said Sofia Richie at the 1 Oak and Up & Down party – the unofficial Coachella kickoff – on Friday, where Kendall Jenner played DJ for the afternoon at a private residence in Bermuda Dunes alongside the DJ group Pizza Boys. "That's too crowded for me," she continued, glancing at the cluster of people surrounding Jenner and rapper Post Malone, who had just given an impromptu performance of his hit "White Iverson." "I stayed out [of the crowd] but danced my little heart out," said Richie. "All my friends are here, so I'm having a good time."
Guests included some usual suspects: Kylie Jenner, Scott Disick, Bella Hadid with The Weeknd, Miranda Kerr with Snapchat's Evan Spiegel, Devon Windsor, Constance Jablonski and a slew of other Victoria's Secret models, who let loose on the grassy field, eating pizza as they danced to Rihanna's "Work." Drinks were flowing at the pop up event, held on the vast back lawn of the property. It was a mini carnival of sorts, complete with an inflatable bouncy castle and cotton candy.
Also in attendance were Orange is the New Black's Ruby Rose and Leonardo DiCaprio, who kept a low profile – as he does – in one of the white VIP cabanas.
Meanwhile, in Palm Springs, Emily Ratajkowski was hosting a much tamer kickoff for PopSugar at the Avalon Hotel, where Hannah Bronfman had settled in behind the DJ booth.
"I love the vibe of Coachella," said Bronfman, who's no stranger to the festival. "This is my ninth year coming here, so it's really familiar to me at this point."
So, how was the Coachella veteran planning on spending her first night of the first weekend? "Calvin Klein will be a really fun party tonight. And Nylon always has great events," she said.
Indeed, those were the two hot tickets of the evening. By 11 p.m., Nylon's party was in full swing. French singer-songwriter Soko was first to take the stage, as rumored girlfriend Kristen Stewart looked on discreetly from the side. Scott Eastwood, Owen Wilson, Skrillex, Hailey Baldwin and Joe Jonas with his band DNCE all stopped by, as did Leonardo DiCaprio around 1 a.m., just in time for A-Trak's performance.
DiCaprio later made his way to the Calvin Klein party, held at a large warehouse, which had an impressive lineup of its own that included Alesso and Virgil Abloh. The party also brought out Kanye West – who went unnoticed in a reclusive VIP area – as well as Zoe Kravitz with Twin Shadow, A$AP Rocky, Freida Pinto, DKNY designers Dao-Yi Chow and Maxwell Osborne, Jaden Smith and girlfriend Sarah Snyder, and the Haim sisters, found outside the event by the In-N-Out food trucks.
"We love In-N-Out. I mean, obviously," said Este Haim. "It's all about the grilled cheese though. It's the best."
"We just came from the festival, so I don't even know what I look like," said Danielle Haim, before they posed for photographs. The sisters were in town as concertgoers rather than performers this year. "We have a lot of friends playing. We're excited to see Chvrches and, obviously, Guns N' Roses," she said of Saturday's much anticipated headliner.
"Guns N' Roses!" exclaimed a passerby. It was 3 a.m., and the party was still going.
Photos: Kanye West, Leonardo DiCaprio Party on Night One of Coachella
Sarah Snyder and Jaden Smith. Photo by Ted Emmons.