Coachella 2017: Doug Aitken Kicks Off Weekend One With Jared Leto and Rosetta Getty
Inside Rosetta Getty's intimate dinner to celebrate the inaugural edition of the Desert X art festival.
---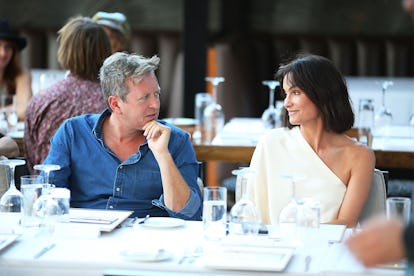 Joe Scarnici
"Like Chet Baker said, 'let's get lost,'" announced artist Doug Aitken before inviting visitors to explore his latest art exhibition, Mirage on Friday afternoon.
"Oohs" and "aahs" were heard as the handful of guests explored the structure during the private tour just outside Palm Springs.
"So cool," said French singer-songwriter and DJ Soko, as she wandered, capturing her kaleidoscopic reflection.
The installation has no windows, no doors, but open rectangular shapes, creating an airy flow of passageways that look out onto the surrounding desert landscape. Modeled on the traditional Western, ranch-style house of postwar America and inspired by the architectural designs of Frank Lloyd Wright, Mirage is created entirely of mirrored surfaces, both the interior and exterior, with angular corners and reflective ceilings and walls. Front the outside, it's invisible, a true mirage, as it disappears into the background.
"It's a generic suburban house," explained Aitken. "A structure drained of any history, something I've been wanting to do for a long time."
The project is part of Desert X, one of over a dozen works in Coachella Valley, running until April 30th. Mirage, however, will stay open until October 31st.
Those who came out for the visit included Balthazar Getty with wife and designer Rosetta, who later invited guests to join them for dinner at SO.PA inside Palm Springs' L'Horizon Resort & Spa, in partnership with e-commerce platform Orchard Mile, to celebrate the occasion.
The goal of the evening was to bring art and fashion together at Coachella, explained Getty. "This came together in 48 hours," he said by the poolside bar of the hotel. It was 5 p.m. and the mood couldn't have been more relaxed, a true contrast to the usual shenanigans that surround the first weekend of Coachella, as everyone lounged and sipped cocktails before making their way to dinner.
"Is this how it's supposed to be worn?" asked English actress Annabelle Wallis, addressing a friend, of her dress, by Rosetta Getty, of course.
The guest list included Alice Eve, Chelsea Leyland, Mary Charteris, Erica Pelosini, Johnny Wujek, Josephine De La Baume, Markus Molinari and Jared Leto, who didn't stay long after showing up halfway through dinner. "What an eclectic group," a guest concisely summed up.
"Eat, drink and be merry," exclaimed Getty, after thanking his wife for putting the event together last minute. Dinner was served, and the weekend just getting started.
Related: Jared Leto Reveals His Crush on Grace Kelly
Coachella 2017: Crop Tops, Florals and the Best Street Style From the Ancestral Homeland of Festival Fashion