That Mirage at Coachella Isn't Beyoncé, It's Desert X
Inside Desert X, the outdoor art exhibition occupying Coachella Valley until April with everything from bots to underground shelters to tweets by Richard Prince.
---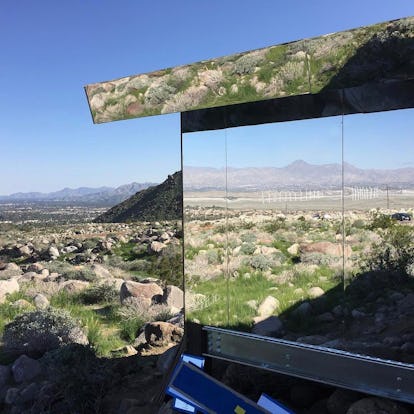 Courtesy of @palmspringsoasis
"By entering this artwork you assume any and all risk of injury and or death that may occur," reads an all-caps sign installed in the middle of Coachella Valley as of this weekend. It sits atop a hatch that leads to an underground bomb shelter-turned-installation by the artist Will Boone. And while this work may be remote, it's got company until the end of April: Boone's "Monument" is just one of 15 other artists' projects currently occupying the valley until this Beyoncé-less festival season, as part of the curator Neville Wakefield's massive outdoor exhibition, Desert X.
As a roaming six-wheeled bot by the Italian artist Norma Jeane can no doubt attest, the art gathering stretches from the San Bernardino Mountains to the Salton Sea. The dozens of miles are punctuated by a 100-foot striped wall by Claudia Comte; an earthen pigeon tower by Sherin Guirguis; an allegedly already vandalized Twitter installation by Richard Prince; an ultramarine sculpture and sound installation by Lita Albuquerque; and, the most Instagram-friendly of all, a mirror-covered ranch home by Doug Aitken, which perfectly reflects the exhibition's biggest star: the desert itself. Get a look inside the valley courtesy of its first wave of Instagrammers, here.
I Am an Immigrant: 81 of Fashion's Biggest Names Come Together