Coco Rocha Wears Her Own Line Better than Anyone Else
The model now has a new fashion label, Co+Co, and she sure knows how to wear it.
---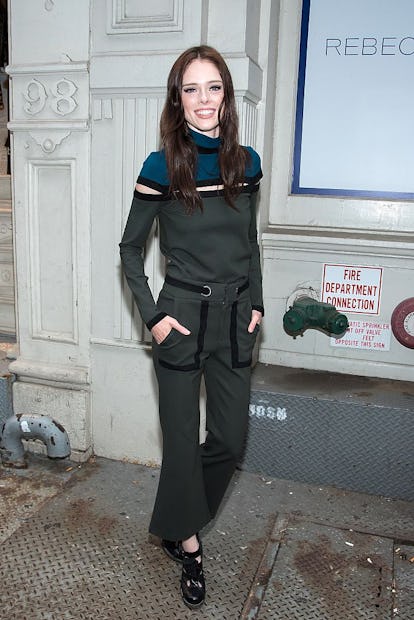 Mike Pont/WireImage
Who: Coco Rocha.
When: Thursday, August 25.
Where: At the Rebecca Minkoff store in New York to celebrate the Good Housekeeping Awesome Women Awards.
What: A green and blue flared jumpsuit from her own line, Co+Co.
Why: By the time Coco Rocha was 23, she was already a veteran model, doling out advice to the new waves of girls setting foot in New York. So it's no surprise that now, just four years later, she's not only a mom, model rights advocate, and owner and director of a modeling agency, but also a designer. Following in the footsteps of Kate Moss, Karlie Kloss, and other models who can do both, Rocha launched Co+Co just last December – a contemporary sportswear line with designs like a varsity jacket-turned-cape. She showed off another of her ambitious designs in New York this Thursday when she headed to the Rebecca Minkoff store in a look doing almost as much as she does. Complete with pockets and flare pants, her jumpsuit also bucked the exposed shoulder trend by taking the cut-out down a notch and topping it off with a turtleneck. And, just like with everything else, Rocha pulled it all off without looking too busy. She just might be her own best model.
Watch W's most popular videos here: