Lili Reinhart and Cole Sprouse Are Vacationing Together in Hawaii Right Now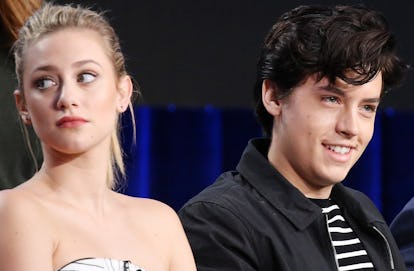 Getty Images
Lili Reinhart has been posting up a storm about her gorgeous New Year's Eve vacation in Hawaii. "Everywhere in Hawaii is a real life Windows desktop," she wrote on Instagram alongside a stunning island photo. "I'm a basic bitch, and I'm never leaving Hawaii," she also posted on Instagram Stories earlier while nestling a delicious-looking fruity beverage. The trip looks picturesque, to say the least—a perfect place to get some R & R before returning to frigid Vancouver for Riverdale filming.
But it turns out Reinhart isn't alone on her trip. Reports surfaced a few days ago that Cole Sprouse, Reinhart's Riverdale costar and maybe-probably boyfriend, was on vacation with her—and now these fan photos prove it. Though it seems the "maybe-probably" in this situation is quickly carrying about the same weight as Kylie Jenner being "maybe-probably" pregnant.
Check out this Snapchat, below, in which a fan gawks at Reinhart and Sprouse, who are casually sitting outside a restaurant.
And here's a slew of selfies the twosome took with fans while on the island.
Finally, a sweet shot of Reinhart and Sprouse posing with a fan in front of some stunning Hawaiian scenery.
Of course, there's always the possibility Reinhart and Sprouse aren't actually dating and this was just a platonic friends' getaway. Unfortunately, it looks like neither of them will tell us one way or the other because both have remained pretty tight-lipped about the particulars of their interpersonal relationship. In fact, Reinhart went on a mini Tumblr rant a few months back about how she's over people "shipping" her and her costars.
"It's horrifying how invested some people are in my love life. Emphasis on 'my.' It is mine. It is private," she wrote. "If a stranger's love life is causing you anger, frustration or anxiety…please reevaluate your priorities."
Oh well, at least we have these cute photos to keep us warm.
Related Stories:
Cole Sprouse Was Finally Asked, Point-Blank, If He's Dating Lili Reinhart
Lili Reinhart Is Now Wearing Cole Sprouse's Clothes in Public
Lili Reinhart and Cole Sprouse Shared a Cute Moment on The Tonight Show