On the Fringe
Colette Harron's East Village shop didn't have a name—but her customers (Jimi Hendrix, Hubert de Givenchy) sure did.
---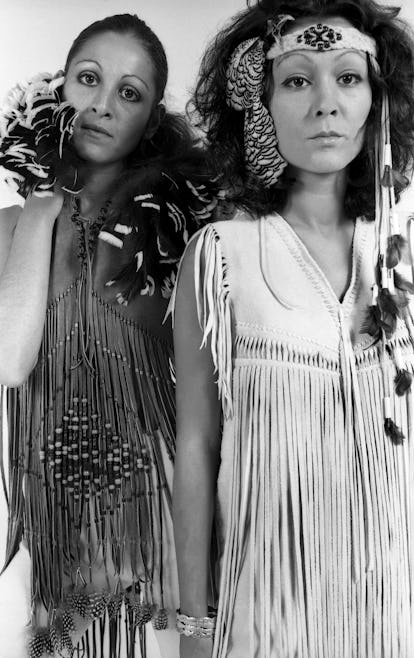 One day in 1969, a beautiful young woman ____in flowing clothes was sitting in her shop on East Ninth Street in Manhattan when a man came in, looked at a handmade leather jacket hanging on the wall, and asked the price.
"I don't know," she said.
He looked at a shirt from London and asked, "How much is this?"
"I don't know," she said.
"What do you do?" asked the man. "Do you just sit here and smile?"
"I guess that's what I do," she replied.
"It was pre-branding. It was pre-paparazzi, pre- all of that, so there was a freedom, where you didn't have to follow any rules," says Colette Harron, today an elegant lady with long brown hair and an impeccable white linen tunic, sitting in a green garden in Connecticut.
Fashion used to be freedom.
"Groove" was a verb, and "dream" was an action. Everyone under 30 was stoned, or wanted to be. The East Village was a filthy place full of music, where the poster stores emitted the scent of blueberry candles and patchouli to mask the bananas rotting in the garbage on the sidewalks, but there was magic. It was the doorway to other worlds. All anyone wanted was to escape.
Not everyone could. Uptown, the Judys slept in rollers and lacquered their 'dos before they went to work in sleeveless shifts, a Kotex in their handbag. The executive Donnys used the same hairspray and wore drip-dry shirts, but even they dreamed of sex, drugs, and rock 'n' roll.
Downtown, long-haired boys and girls wafted in layers of patterns, dressed as hallucinations, the girls in skirts up to there or down to the ground, often barefoot, the boys jangling with bracelets.Everyone wanted to look like Jimi Hendrix, who wore his assortment of scarves, feathers, leather, and chiffon whether he was offstage or making love to his guitar onstage: a headband over his afro, ruffled blouses, embroidered vests, the occasional kimono, and deerskin jackets with beads threaded onto long fringes, which were handmade in a basement three blocks from the Fillmore East, in the shop without a name.
The shop was at 321 East Ninth and belonged to Colette and her friend Stella Douglas, a record producer's wife and, like Colette, a young beauty from Morocco. Colette had moved to New York as a child. Tall and striking enough to be a model, but too exotic for commercial photography, she'd become a stylist, one of the first, along with Ali MacGraw. Like the best fashion minds of her generation, she rooted out obscure and surprising clothes. Nothing mass-produced: the shortest minis and the sheerest blouses from London, the rarest tribal dresses from the Middle East, beading, embroidery—things that bore the mark of their maker's hand. What they used to call treasures.
Colette's husband, the photographer Peter Harron, alerted her to a store called Wisdom and Folly, where three young men made exquisite leather pieces. Timothy DeWitt, Kyle Banks, and Lee Zontone were about to lose their lease. Lee had reportedly spent time with a Native American tribe, where he learned to bead, fringe, and sew garments together with laces. Colette decided to rent a shop across the street and set them up in the basement, while on the main floor she and Douglas sold everything they wore and loved. They opened in the fall of 1968 and quickly became the secret hub of style for everyone in the know.
Colette decorated the store with wall hangings from Morocco, Haitian paintings, a church bench, and floor pillows. A Chinese screen in the corner stood in as the dressing room. They got started at 11 or noon, played music all day—Beethoven, Chopin, samba—burned incense and drank mint tea. Lunch was from a place called B&H, or Ratner's. They were part of the neighborhood, part of the time. But although she looked like the freest of spirits, Colette was no hippie and never took LSD—"You know instinctively," she says.
Under her minis, she wore Emilio Pucci underpants that she sent out to the dry cleaner.
The store, described by Douglas to The Village Voice as "a workshop," had every form of artisan fantasy. It was the place to get the hand-cut, hand-laced, hand-beaded, custom-made leathers; and also Berber dresses from the Atlas Mountains; Navajo turquoise;jewelry hung with skulls and dice made by Robert Mapplethorpe before he got his first Polaroid camera; belts by Minnie Cushing; vests; carnelian-set cuffs from Afghanistan; and the London clothes that Colette favored and used for her photo shoots: shirts from Deborah & Clare, dresses and python vests from Ossie Clark's Quorum, squiggly-printed chiffons from Zandra Rhodes, dresses and coats from Barbara Hulanicki's Biba.
The English clothes were tiny; their designers—born in the early '40s, underfed during the war, and left hungry by postwar rationing—had grown into small, skinny people who looked great in anything.
"The size," Colette says, "was half-zero."
The shop was soon discovered by Hendrix, who took to hanging out all day on the church bench playing his guitar, which, Colette recalls, "blew everyone's mind." The short white jacket with beaded fringe that he would wear when he performed at Woodstock came from there. The leathers they made required several fittings and were expensive, about $300, which was twice the monthly rent on the place. Only rock stars and the elite could afford them.
Miles Davis, Lou Reed, and Carlos Santana came in, as did Janis Joplin. Cher ordered a fringed coat, long distance. "It fit perfectly," Colette remembers. Jackets were made for the Allman Brothers and Johnny and Edgar Winter. Everything was custom, and no two pieces were alike. Like the store, the leathers didn't have a label.
Andy Warhol came. Fernando Sanchez brought Loulou de la Falaise; and Colette took Loulou to watch Hendrix record. Caterine Milinaire, who had roamed the world for American Vogue, had an unerring eye for tribal treasures and was to write the fashion bible Cheap Chic, covered the store in New York Magazine. Adventurous socialites made their way in; D.D. Ryan, who wore her hair in a bun no bigger than a cherry tomato and was married to a hip millionaire named John Barry Ryan III, brought in Hubert de Givenchy, who ordered a beige leather jacket with white fringe.
The whole endeavor lasted barely two years. After Hendrix died, in September 1970, Colette closed the shop and gave away most of the stock to friends. She thinks an Ossie Clark python coat that was included in an exhibition at the Museum of Fine Arts, Boston last year might have been the one she owned, but she's not sure.
Colette followed her husband on a photographic journey through South America and never opened another store. In 1976 they bought a house in the perfect Connecticut town of Essex, where she is now a star real estate agent for Sotheby's.
So it's odd to be sitting with lookbooks from the fall runway shows, flipping through pictures of clothes by designers intent on evoking that time, as if peering though a stereoscope at views of the past. There are things at Gucci and Louis Vuitton, but it's Hedi Slimane's Saint Laurent collection that yields the most evocative finds. A peacoat. Silver boots. A leather jacket with studs. A sequined dress with a knitted cape. An ocelot dress with a long tweed jacket.
We peer and pore, and we emit noises like doves. The Saint Laurent collection is wonderful, and it's exciting to see these coats, these jackets, these skirts and dresses and boots. We recognize them. Anyone who was walking around in the '60s or the '70s would know them. Fashion is a little like music: Once you've heard the song, once you associate it with a moment of love, of freedom, of happiness, you'll always respond to it. We're looking at the new clothes and humming their tune.
Colette Harron and the musician and actor Gino Piserchio, photographed by her husband Peter Harron, 1976. Courtesy of photographer.
Colette Mimram. Courtesy of subject.
Harron (in the hammock, right) outside her store, 1968. Courtesy of Raeanne Rubenstein.
Hendrix performing at Woodstock, 1969. Courtesy of Corbis.
Colette Harron. Courtesy of subject.
Harron and Stella Douglas in fringe pieces from their shop, 1969. Courtesy of Raeanne Rubenstein.
Colette Harron. Courtesy of subject.
A women's look from the Saint Laurent spring 2015 show. Photograph by CNP Montrose.
A spring 2015 Saint Laurent men's look. Photograph by CNP Montrose.