To Have and to Hold
Ultra-exclusive designers craft jewels for a forunate few.
---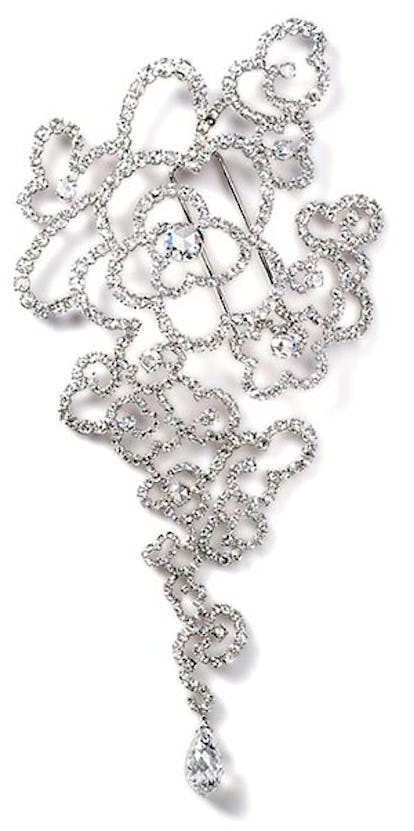 When 17 JAR pieces drew record prices at a Christie's auction in late 2006, industry insiders gasped at some of the numbers (one ring alone fetched $1.6 million), but the outcome of the sale wasn't a complete surprise. For starters, the baubles were part of a 102-piece lot of jewelry gifted to Ellen Barkin during her now defunct marriage to Ronald Perelman, so the buzz was considerable. Add that to the rarity of so many JAR items going under the gavel at once, and the success of the auction was virtually etched in stone.
Considered one of the most collectible jewelry lines in existence today, the cultish JAR (the initials of the collection's Paris-based designer, Joel Arthur Rosenthal) has become the benchmark by which all other modern auction-worthy jewels are judged. Among myriad flashes in the pan, only JAR is currently poised to step into the longevity ring alongside mainstays like Bulgari, Cartier, Harry Winston and Van Cleef & Arpels.
No wonder the race is on to discover "the next JAR." But in the world of fine jewelry, it can be challenging to identify pieces that will be coveted generations from now. "You want to make sure you're buying for posterity," says Ralph Esmerian, owner of Fred Leighton and a famous purveyor of estate jewels. "That's the gamble in the art market these days."
Judging by the numbers, jewelry's stock as major auction material is on the rise. At Christie's, sales have jumped from $279 million in 2005 to $395 million last year. Sotheby's has experienced a similar uptick, from $167 million in 2005 to $292 million in 2007.
Lee Siegelson, president and owner of Siegelson, a third-generation New York jeweler that specializes in fine collectibles, is seeking quality and consistency. And he freely admits to measuring all working contemporary jewelers against Rosenthal. "It's not just the quality of the pavé or metalwork," he says. "It's the experience of buying one-of-a-kind pieces of jewelry conceived and created in-house, by one person in one kind of environment. It's about the process. If you compare that to other designers, that really becomes the difference."
Still, among some of the world's top collectors, there's a short list afloat, as well as a few key commonalities: Each member of this new crop of rising stars produces an extremely limited quantity of pieces per year, sells almost exclusively by appointment, and already has some type of presence on the auction and/or museum scene. Rather than a specific style or material, what these jewelers all share is a propensity for highly sculptural, exquisitely crafted one-of-a-kind pieces.
Ironically, one of the brightest lights—Daniel Brush—isn't even a jeweler. An artist, sculptor, history buff and machinist, Brush has designed with steel, gold and other metals in his Manhattan studio for 30 years. He mixes his own ores, has an extraordinarily rare 18th-century guillochet machine and builds race cars. A serious fellow, he blows off steam by creating innovative jewelry. Brush toys with Bakelite, carving it into a trio of whimsical black poodles or a ribbon-wearing pig inlaid with diamonds and other gemstones.
"I love that someone doesn't necessarily want to own her grandmother's parure," says Brush, who once created works for Van Cleef & Arpels. "Maybe she wants to wear jeans and go to lunch and wear a contemporary look that fits into her milieu."
Brush doesn't market any of his works, jewelry or otherwise. The subject of a retrospective at the Smithsonian in 1998, he says he's "famous to 10 people" and occasionally receives phone calls from those interested in acquiring an item.
"Daniel Brush is apart from all of them," says Esmerian. "He could work in any medium, from elephant tusks to dinosaur bones."
Carnet's Michelle Ong is another jeweler to watch. A bit more prolific than some of her peers (it's estimated she crafts up to 500 pieces per year), the Hong Kong designer is known for multidimensional creations that often pair rose-cut diamonds and deep-hued sapphires with titanium for lightness.
Recently, Ong brought a selection of items to Bergdorf Goodman, where she is considered royalty. "The queen is here!" raves Bergdorf's chief executive Jim Gold. "Michelle's jewelry really stands out."
Counting Renée Fleming and Wendi Murdoch as friends and clients, Ong safeguards her exclusivity. "It sounds egotistical," she says, "but my jewelry is not for everyone."
Another Hong Kong export is Edmond Chin, of ETC Ltd. A former Christie's staffer, Chin has been toiling at his namesake line for seven years. His experimental style manifests in exquisite baubles like his emerald and jade bangles. Although he keeps a low profile, "People see the jewelry out there," he says.
Chin produces up to 300 pieces annually, however some custom items can take a few years to complete. In addition to his laser focus, Chin is lauded for keeping mum about his well-heeled customers. "His clients are high-net-worth individuals," says François Curiel, chairman of Christie's Europe and the auction house's head of jewelry. "I know a couple that goes to Hong Kong every year, and each time, they make a trip to Edmond. His designs are in great demand."
Taffin's James de Givenchy is another hot ticket. Also an alum of Christie's (as well as Verdura), Givenchy produces no more than 80 items per year in his salon on Manhattan's Upper East Side. He is known for his use of vibrant color, his delicate hand and his charming demeanor. He's so accommodating, in fact, that he'll even shift design gears on occasion.
"My clients are very interesting people, and they sometimes force me into a different direction," says Givenchy. "I don't want to invite people to tell me what to do, but I listen."
Hemmerle, a fourth-generation jeweler based in Munich that produces roughly 300 pieces a year, is also becoming highly collectible. So much so that Christian Hemmerle and his wife, Yasmin, who currently run the operation, were trying to diplomatically juggle an overwhelming gaggle of clients at a recent private showing at Plaza Athénée in New York.
"A lot of people ask me how we come up with ideas," says Hemmerle. "It's not that we sit and sketch. We try to find the most beautiful colored gems. We try to get inspired from the materials, everything from brass and iron to copper." One of the firm's most unusual looks is a patinated copper and aquamarine suite. "He definitely has his own identity and look," says Siegelson about Christian Hemmerle's designs.
"We're very much associated with art collectors," says Hemmerle, "not showy people and not starlets."
Joanna Hardy, head of Sotheby's jewelry department in London, agrees that one of the key benefits of working with art-minded jewelry clients is that they tend to hold their new necklace or brooch in the same high regard as a pricey painting or sculpture. "It's a synergy that makes sense if someone appreciates art," she says.