Colman Domingo Is a Character Actor Who Makes Every Role Count
During a Zoom cocktail hour, Colman Domingo talks about his career-defining year, and explains why he'll never play the same role twice.
---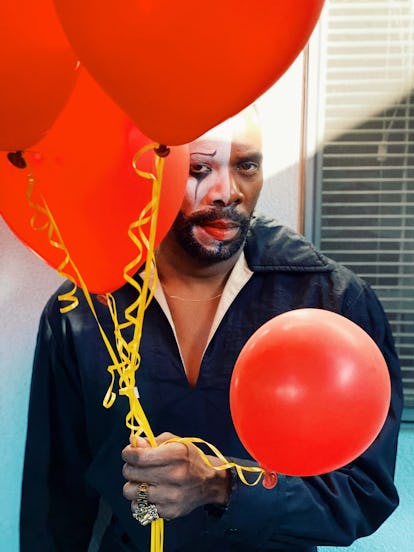 Courtesy of Colman Domingo
Defining the term "character actor" is a bit of a task. Every actor plays a character, but the most commonly accepted understanding of the phrase is a supporting actor who plays distinctive, eccentric personalities, completely obscuring the actor behind the role. Margo Martindale, Giancarlo Esposito, Harry Dean Stanton—these are all character actors. When you see them on screen, you don't see the actors, you see the unique, perhaps even odd, characters they play.
Colman Domingo is one of those performers. At 50 years old, the actor, writer, director, and producer has become such a recognizable face, identified by his penchant for occupying out-of-the-box roles on screen, and never playing the same character twice.
Domingo is a chameleon—he can play a droll, sideshow clown or a hardened criminal. He switches between a harried, secret-keeping business-owner in Nia DaCosta's Candyman to a menacing pimp in Zola; a suave Zombie outbreak survivor in Fear the Walking Dead to a 1920s jazz trombonist in Ma Rainey's Black Bottom. But at home, he's just Colman.
And that's where I met Domingo—in his home. Of course, we were separated by a screen, but when he appeared in front of his at-home bar, wearing a galaxy blue Haider Ackermann blazer and a yellow fedora, and sporting his signature mustache, I felt like I was right in there with him, ready to take lessons from him on how to make a Sazerac cocktail.
The ingredients for the drink that Domingo shared involve bitters, rye whiskey, a sugar cube, and absinthe—which I admittedly was a bit nervous about because I've never been a fan of anise flavors, like fennel and black licorice. But the result was a refreshing sip on a hot summer day, and it was strong. It's simple to make—all you have to do is rinse a glass with absinthe and toss the excess, muddle a sugar cube with Peychaud's bitters, add the rye, plop in a big ice cube, and twist a lemon peel around the edge. By the time we finished up the quick tutorial, I felt warm, welcome, and invited, because that's just the type of energy that Domingo is capable of radiating through a screen, even if it was just a Friday afternoon Zoom call.
Fans of Domingo's virtual cocktail hour, Bottomless Brunch at Colman's, already know this. Those who have been invited on the show—like Leisha Hailey, Niecy Nash, and Julia Stiles—have likely experienced this version of the multi-hyphenate as well. Domingo is not only a curator of decor and atmosphere, he's a curator of culture and conversation, as evidenced by his AMC chat show Bottomless Brunch at Colman's. He sends people the ingredients they need for brunch and cocktails, and facilitates the dialogue. "I just want to bring people together. I'm pulling the old Dick Cavett in these interviews," he laughed. "I get it going, and then I back up a little bit and let it happen, and they're not promoting anything. That was the whole intention, I just want people to get to know each other."
His home is curated almost entirely by him—the lighting, the furniture, even the plates he serves home-cooked meals on are all inspired by working in a number of fancy bars and restaurants. "I like the idea that every day should have a little ceremony to it," he explained. "Even just making dinner and sitting it down at the table, the way it's presented, I think it should have some inspiration in some way. I know that I learned all that from bartending and waiting tables."
It's easy to talk with Domingo for an hour about anything, and even easier when you're drinking one of the cocktails he taught you how to make, a skill he picked up working 15 years as a bartender in San Francisco and New York. People often say bartenders are like therapists, willing to lend an ear to even the most trivial problems, and Domingo can certainly embody that type. As he regaled me with stories of working on Christopher Street, "watching human beings in all their eccentricities," Domingo let me in on the reason behind his decision to support himself as a working actor by being a bartender. "I felt that the bartenders had more agency in the bar and the restaurant," he told me. "Nobody gives a bartender any shit," he laughed. "I guess because of the currency. You want a good cocktail and I'm in control of it, so therefore, we're going to play nice."
If that sounds menacing, it wasn't—Domingo is far from it. Growing up in West Philadelphia, he says he was always an introverted and shy person. "I think of myself as that same person," he said. Acting didn't come until much later, when he took an acting class as an elective in college to learn how to be less shy. "I don't have any formal training," he admitted. "I've taken a total of maybe three classes in my entire life, but I was always being investigative. Maybe I liked the idea that I don't know everything because that pushes me to figure it out. And I think failure is not really an option."
Domingo is an autodidact, who has learned mostly by reading on his own. When he started getting small acting gigs, he would shovel into his brain books by Uta Hagen and Konstantin Stanislavski. He taught himself to bartend by reading cocktail books at night.
Always eager to learn something new—a trait Domingo noted he picked up from his mother, who passed away in 2006—the actor never wants to repeat a role. "I've built my whole career off of doing things that feel scary and weird because I'm definitely a character actor through and through. I can play a leading man, but I also sit very well with interesting characters, and the deeper and weirder they are, the better," he said in between sips of his cocktail.
Domingo has already done just about everything he could do as an actor, save for traveling to space. It's not that this year is a breakout for the performer (who's been in the game for nearly three decades already), but he is at a turning point that could be considered career-defining. He's appeared on Euphoria as Rue's sturdy sponsor, emerging from the shadows to help keep the character in check whenever she's about to slip up and relapse. He'll appear in Nia DaCosta's take on Candyman with Yahya Abdul-Mateen II and Teyonah Parris, star in Ma Rainey's Black Bottom on Netflix alongside Viola Davis and the late Chadwick Boseman, and play the threatening pimp in Zola, based off the viral Twitter thread. And the details in most of these forthcoming projects he's a part of remain top secret.
Take Candyman, for example. DaCosta's "spiritual sequel" to the 1992 classic will be released early next year, and between now and then, there's not too much that can be revealed about the frights in store. "Candyman is about gentrification in a very meaningful way and also about dealing with Black trauma. And I think that the character of Candyman represents Black trauma as well," Domingo said.
"This is as much as I can say," he teased, "But my character holds a lot of the keys that have gone on to the Cabrini Green projects in the film."
Then there's Ma Rainey's Black Bottom, the Netflix film adaptation of August Wilson's 1982 play of the same name about the 1920s jazz scene in Chicago. "Shooting that play in Pittsburgh was one of the highlights of my career. It was hard," the actor said. Domingo had to learn to play the trombone for the role in George Wolf's film adaptation of Wilson's work. As a playwright himself, Domingo understands the unique burden of being a Black creator who makes work about Black people, and the conversations it will start about race in America. "[Too often], if it's about oppression in some way or if it is told through the white gaze, that's when it gets produced," he said. "It always feels like a responsibility that we have to talk about race if we're Black on stage, and I'm always annoyed with that because I'm like, I don't think Black people just talk about race all day long. I think being Black is radical and it is racial already. But sometimes I think our white counterparts may not see it until you talk about race because I think that's how they can find themselves in some way."
When it comes to Zola, that inevitable conversation about race will make its way back around again. But Domingo embraces it. "It's so ballsy in only the way that Janicza Bravo can direct it. It is weird and unique and dark, but has so many moments of laughter. I think it's an examination of appropriation as well," he said.
"It'll remind people how much of a character actor I am because I do things possibly that people have never seen. [My character is] dark and weird and violent, but you sort of like him and that's part of the charm," he explained. "I had to investigate pimp culture to find out how psychological it was, and go down this rabbit hole, and boy was it dark and weird," he went on, explaining that he found most of the source material for his research regarding pimp culture and sex trafficking on YouTube.
"Janicza actually allowed me to run wild in this film," he added. "I'll say this of Janicza and of Nia DaCosta: I work with a lot of female directors, and they are very supportive of how far I can go. It's not about ego. I get along with guys too, but some of my favorite directors are women. We know how hard it is for women to have opportunities in our industry, so when they're at a tipping point to be on a platform to have a couple million-dollar films, they're the best at what they're doing and they're not playing. I respect that."
Domingo is also honing his producing skills behind the camera, too. "This year, my evolution as a creator is what I'm interested in. I started my production company right before the pandemic began because I have a first-look deal with AMC, and that's meaningful to me," he said. "I'm always trying to encourage other artists to take the reins as a producer. It's not about 'you,'—I'm not that egocentric—I just want things to be there."
Perhaps the project that Domingo is a part of that is most consistent is AMC's Fear the Walking Dead. When Domingo got the note from his agent to audition for it, he was hesitant, until he realized the character of Victor Strand required more of a Shakespearean performance. "These were lines that I'd never seen before for a television character," he said. "I thought, Oh, it makes it seem like he's doing King Lear." It was out of the actor's comfort zone, but he went for it. And six years later, he's still part of the Walking Dead franchise. For that shy little kid he still considers himself to be, the attention from a massive fandom is never something he expected. "I'm not interested in being in an environment that requires me to wear a baseball cap and sunglasses," he said. "I'm always appreciative, and I love fans, it's all nothing but love and it doesn't freak me out."
"I feel that I'm very lucky that my recognizability came later in my career because I think that I've always just been respected as a craftsman, and I worked hard for the past 30 years," Domingo told me just before we clicked out of our Zoom cocktail hour. "I've always made decisions on how to keep everything in perspective."
Related: KiKi Layne, If Beale Street Could Talk's Leading Lady and Overnight Star