Comedian Elsa Majimbo Finds Fame on Her Own Terms
The 19-year-old Nairobi native's cheeky, irreverent brand of Instagram humor has gained her fans in Chrissy Teigen and Usain Bolt.
---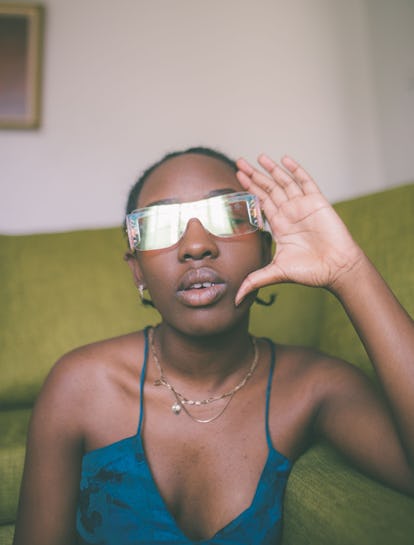 Photographed by Nigel Akala
The 19-year-old comedian Elsa Majimbo's first exposure to comedy was through watching the early Aughts greats in her TV room: Dave Chapelle, Katt Williams, Chris Tucker. Growing up in Nairobi, Kenya, she and her brothers and sister were largely uninterested in the activities their conservative, religious parents found entertaining. Especially not watching the Kenyan stand-up comedians who showed up on national television every Sunday. These entertainers told jokes primarily in Kiswahili—a language that, Majimbo explains, she isn't as fluent in, compared to English. Plus, the comedians told jokes that pertained to politics and current events. As young kids, the siblings didn't always understand the context.
But they loved Killing Them Softly and Eddie Murphy's classics, which touched on discrimination, social behaviors, and the universal experiences and emotions felt by most humans. Majimbo's older sister, the eldest of the bunch, would sneak out to buy DVDs and VHS tapes of the standup to watch secretly. If, while in the middle of a clandestine viewing, they heard a parent descending the stairs to the back of the house where the TV room was located, they'd scatter—one child would hit eject, another hid the tapes and any evidence of what was going on.
Majimbo tells me this story over a Zoom call from her home in Nairobi, where she has recorded countless videos of herself telling jokes. In these videos, which she began posting at the beginning of Covid-19 lockdown, she follows a winning formula: most of her comedic acts center around loving quarantine—not "missing anyone," and instead relishing alone time, ignoring texts and calls from pesky friends and family. ("You know I won't pick up, but you call. What is this audacity?" she asks in one video.)
Each joke is bookended by hearty, almost corny laughter, popping a few chips in her mouth, and sliding an old pair of sunglasses, askew, onto her face. The jokes are irreverent, cheeky, and filled with the attitude that most young people, burnt out on excess social time and constantly scrolling on social media platforms, can relate to.
They are also the reason the young comedian has reached an unprecedented level of stardom. In the beginning of the year, she started out with a few thousand followers, most of them fans from South Africa. Since then, her videos have proliferated online, and she's found fans in Chrissy Teigen, Usain Bolt, and has received shout outs from Steve Harvey—she currently tallies over one million Instagram followers. She also won the E! People's Choice Awards African Social Star of 2020 last week. Majimbo has recently started working on projects with Comedy Central, will be one of the faces of Fenty Eyewear, and is even writing a children's book. Plus, she has launched a new Instagram show, Bedtime With Elsa, in which she interviews the likes of Jorja Smith, Bolt, and Black Lives Matter cofounder Opal Tometi before she goes to sleep.
"I feel like you can have a light conversation about most things, no matter how serious the topic is," Majimbo says. "You can't always be serious about everything—it just bottles up a lot of things. I've seen it with people like Dave Chappelle: he always makes jokes about the cops, dishonorable situations and things that happen. And it's always very funny and light, even though it's such a heavy topic."
Majimbo sees this as a metaphor for life—you tell a joke one minute, and you're serious another, and that's simply the ebb and flow of human feeling. Making wisecracks between the sober moments creates balance. She understands that although she tells jokes on Instagram, she can also participate in no-nonsense conversations. She's been publicly involved in the #EndSARS movement on social media, and has gone viral on Twitter multiple times for her outspoken posts.
In conversation, Majimbo isn't always in character; she's a regular teenage girl, talking about a friend who's starting a clothing line and gave her a screenprinted sweatsuit to rock or complaining about her parents bugging. But in moments, she slips into the tag lines that have become synonymous with her comedy. ("Don't do it!" she says at one point.) And when speaking about college, which she's put on hold for the moment, she assumes a deeper, faux-solemn voice. "I just told them, 'Hey, yo, guys. It's been real, it's been nice.' I told my parents to soften the blow that I've left the school I'm in, and chances are, I'll go to another school. I'm taking it slow—until we reach a point where I'm like, 'Oh, guys. Yeah. Um, right now it's very clear: I'm never going back to school.'"
Education was always a pain point for Majimbo. She felt she didn't fit in anywhere—especially not at school, where students were told the path to legitimacy was through education: high degrees, rigorous test-taking, working in medicine, engineering, or law. (She preferred to daydream and flex her overactive imagination.) As a dark-skinned young woman, she was often chosen last, left out of school activities. ("I love being dark-skinned," Majimbo says now.) And she watched some of her teachers even partake in verbal, sometimes physical punishment of her classmates. It was widely accepted as a normal form of discipline, but Majimbo had enough of it. Her disdain for the education system in her hometown grew with every pipe struck against her hands when the blackboard wasn't clean. She found it preposterous and unfair that men, who existed at the top of the food chain, were followed next in the hierarchy by light-skinned people. When she tried to break into the entertainment industry in Nairobi, those same men urged her to attend "parties" and suggested she partake in sexual favors in order to get ahead in the game.
"I was like ah ha! Ah ha! Are you insane? Have you lost your damn mind? Do you think I'm gonna sleep with a bunch of old men just to make a few dollars? Screw you, screw you, screw you," she recalls. "I can build my audience somewhere else."
Pursuing an alternative avenue has paid off. After parting ways with school, where she was studying journalism, Majimbo plans on moving to the United States to continue her foray into the world of comedy (for the record, she is overjoyed with the election of Joe Biden as president. "I'm not going to let people vote for a bad president," she says, absolutely in character this time. "I want to go there and live luxurious. I won't suffer just because people didn't vote.")
Even at a young age, holed up in the TV room with her siblings, Majimbo knew she was different—and not just when it came to her comedic preferences. She was aware that her journey would waver from that of her peers, and that was okay, she recalls. It would serve her in the end.
"I always did my own thing," Majimbo says. "I was like, if anyone wants to ride with me, they'll do it."