ComeForBreakfast is the New Italian Label You Need to Know Now
Eight years after Francesco Alagna and Antonio Romano founded their Milan-based label, they've finally introduced their most essential collection yet.
---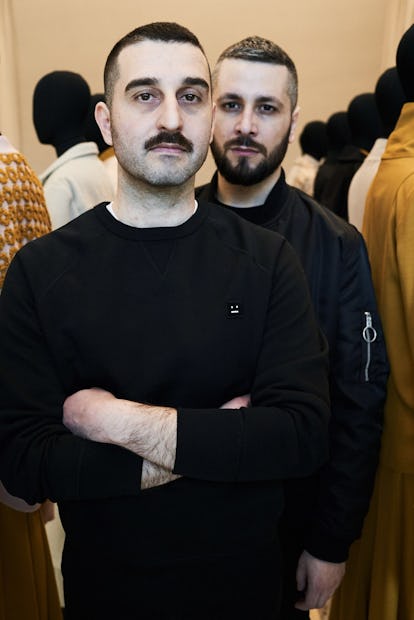 Photo by Simbarashe Cha, produced by Biel Parklee.
Fashion consultants Francesco Alagna and Antonio Romano already had day jobs when they decided to launch their own collaboration in 2009. Alagna was working in the sales division at Zagliani while Romano was developing a special project with the Camera Nazionale della Moda Italiana—the Milanese equivalent of the Fédération française de la couture—so they squeezed in meetings where they could. Usually, that meant scheming over breakfast and coffee before heading to their respective offices.
Thus, ComeForBreakfast, the label they launched nearly eight years ago: "We decided to remember this, the beginning of our project in the name of the brand," Alagna explained one recent afternoon in Milan. It was the day after the duo presented their Fall 2017 womenswear collection as part of Milan Fashion Week, and already Alagna and Romano were elbow-deep in meetings with buyers, and starting to devise the menswear collection they will show in June.
"No time to take a rest," Alagna explained, laughing.
Alagna grew up paging through fashion magazines and wandering through the racks at local boutiques in his hometown Padua, a northern Italian city just west of Venice; he relocated to Milan in 2003 to pursue a master's degree at the art and design school Istituto Marangoni. From there, he cut his teeth working at Sergio Rossi and various other brands based in the Italian fashion capital. Romano, for his part, was raised in a small town in the south, where he happened upon his mother's sewing machine and began making his own clothes before he moved to Florence to study at Polimoda. He bounced around Tokyo and Istanbul before eventually landing in Milan, where he met Alagna.
"It's something which we cannot explain," Alagna said of their innate, well, Italian-ness. "Every day when we wake up and go out for our appointments, the environment around us is something that we breathe."
Their respective early forays into fashion help illuminate the current division of labor at ComeForBreakfast—Alagna is the business mind, running the showroom, production, and coordinating with buyers, while Romano is the creative brain, devising the collections that Alagna then helps bring to life. Their elevated takes on streetwear—"modern, contemporary, and sophisticated," in Alagna's words— have earned them a cult following among insiders, especially in their home country. Their silhouettes are minimalist and refined, their focus the careful selection of textiles and subtle details, like the blink-and-you'll-miss-it irregularity in the fabrics making up many of Fall 2017's boxy tops and low-slung trousers. For their most recent collection, the designers developed a polka-dotted jacquard in gold and ivory, in which the dots are just slightly out of alignment. These nuances were no accident, though—they're part of a vision for a collection entitled "Unsuitable" that explores both literal faults in physical materials.
While the duo's Spring 2017 collection sought inspiration in the work of American photographer Francesca Woodman, for Fall 2017, they produced images of their own that would inspire their work—and though both ComeForBreakfast co-founders are born-and-bred Italians, it was in New York that the seeds for their Fall 2017 collection were sown. Last fall, they were working on a freelance consulting project in New York when they decided to team up with photographer Benedict Brink, stylist Vittoria Cerciello, and casting director Clare Rhodes on a photo series that, like their Fall 2017 collection, was entitled "Unsuitable." In many ways, "Unsuitable" is as close to a mission statement as you can find for ComeForBreakfast: It features nine women—and one man—of diverse races, ages, and body types, all clad in ComeForBreakfast designs that would eventually be expanded into the Fall 2017 presentation. (Those images were also displayed in the same gallery that housed the presentation, à la Rag & Bone.)
"We haven't a specific kind of person or woman or man that we want to dress," Alagna said, explaining the impetus for the shoot. When we spoke, he was reluctant to ascribe any particular traits to the ComeForBreakfast man or woman—"We would like to create something that a lot of people can wear," he added.
Menswear and womenswear have never been too far apart for ComeForBreakfast. In the brand's early days, Alagna and Romano showed just one presentation comprising looks for both men and women; as their business expanded after a few seasons, they broke the presentation into two separate displays to coincide with Milan's two fashion weeks. Yet according to Alagna, the connection between the two remains clear: They share color palettes, and some silhouettes are produced for both shows with slight variations. There are some recognizable pieces they tend to riff on each season, like oversized shirt-dresses, trench coats, and sporty separates.
As brands as varied as Gucci, Vetements, and Eckhaus Latta lead the charge in collapsing gender distinctions in fashion while casting models of varying gender identifications, ages, ethnicities, models in their shows and campaigns, up-and-comers like ComeForBreakfast are quietly putting in the work, too. Nearly eight years after their first collection, Alagna and Romano have finally produced their most essential collection yet.
Milan Street Style Stars Redefine the Meaning of Sprezzatura
Style inspiration on the streets of Milan during Milan Fashion Week Fall/Winter 2017.

Photo by Adam Katz Sinding
Style inspiration on the streets of Milan during Milan Fashion Week Fall/Winter 2017.

Photo by Adam Katz Sinding
Style inspiration on the streets of Milan during Milan Fashion Week Fall/Winter 2017.

Photo by Adam Katz Sinding
Style inspiration on the streets of Milan during Milan Fashion Week Fall/Winter 2017.

Photo by Adam Katz Sinding
Style inspiration on the streets of Milan during Milan Fashion Week Fall/Winter 2017.

Photo by Adam Katz Sinding
Style inspiration on the streets of Milan during Milan Fashion Week Fall/Winter 2017.

Photo by Adam Katz Sinding
Style inspiration on the streets of Milan during Milan Fashion Week Fall/Winter 2017.

Photo by Adam Katz Sinding
Style inspiration on the streets of Milan during Milan Fashion Week Fall/Winter 2017.

Photo by Adam Katz Sinding
Style inspiration on the streets of Milan during Milan Fashion Week Fall/Winter 2017.

Photo by Adam Katz Sinding
Style inspiration on the streets of Milan during Milan Fashion Week Fall/Winter 2017.

Photo by Adam Katz Sinding
Style inspiration on the streets of Milan during Milan Fashion Week Fall/Winter 2017.

Photo by Adam Katz Sinding
Style inspiration on the streets of Milan during Milan Fashion Week Fall/Winter 2017.

Photo by Adam Katz Sinding
Style inspiration on the streets of Milan during Milan Fashion Week Fall/Winter 2017.

Photo by Adam Katz Sinding
Style inspiration on the streets of Milan during Milan Fashion Week Fall/Winter 2017.

Photo by Adam Katz Sinding
Style inspiration on the streets of Milan during Milan Fashion Week Fall/Winter 2017.

Photo by Adam Katz Sinding
Style inspiration on the streets of Milan during Milan Fashion Week Fall/Winter 2017.

Photo by Adam Katz Sinding
Style inspiration on the streets of Milan during Milan Fashion Week Fall/Winter 2017.

Photo by Adam Katz Sinding
Style inspiration on the streets of Milan during Milan Fashion Week Fall/Winter 2017.

Photo by Adam Katz Sinding
Style inspiration on the streets of Milan during Milan Fashion Week Fall/Winter 2017.

Photo by Adam Katz Sinding
Style inspiration on the streets of Milan during Milan Fashion Week Fall/Winter 2017.

Photo by Adam Katz Sinding
Style inspiration on the streets of Milan during Milan Fashion Week Fall/Winter 2017.

Photo by Adam Katz Sinding
Style inspiration on the streets of Milan during Milan Fashion Week Fall/Winter 2017.

Photo by Adam Katz Sinding
Style inspiration on the streets of Milan during Milan Fashion Week Fall/Winter 2017.

Photo by Adam Katz Sinding
Style inspiration on the streets of Milan during Milan Fashion Week Fall/Winter 2017.

Photo by Adam Katz Sinding
Style inspiration on the streets of Milan during Milan Fashion Week Fall/Winter 2017.

Photo by Adam Katz Sinding
Style inspiration on the streets of Milan during Milan Fashion Week Fall/Winter 2017.

Photo by Adam Katz Sinding
Style inspiration on the streets of Milan during Milan Fashion Week Fall/Winter 2017.

Photo by Adam Katz Sinding
Style inspiration on the streets of Milan during Milan Fashion Week Fall/Winter 2017.

Photo by Adam Katz Sinding
Style inspiration on the streets of Milan during Milan Fashion Week Fall/Winter 2017.

Photo by Adam Katz Sinding
Style inspiration on the streets of Milan during Milan Fashion Week Fall/Winter 2017.

Photo by Adam Katz Sinding
See W's most popular videos: