Meet Conan Gray, the YouTube Pop Star Who Emerged From His Bedroom
Ahead of the release of his debut album "Kid Krow," Conan Gray talks new songs, the internet, and wanting to disappear off the face of the earth.
---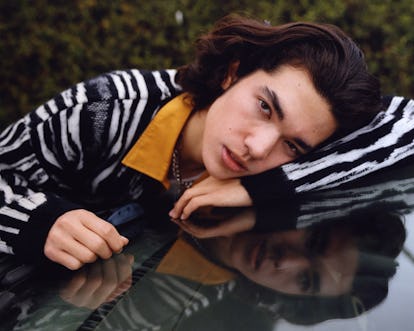 Conan Gray photographed by Lindsay Ellary for W Magazine.
In 2014, a 14-year-old Conan Gray sat on his bed in Georgetown, a city of about 70,000 in the heart of Texas, recording himself. Like tens of thousands of teens, he had attracted a small but active following on YouTube by uploading short vlogs with titles like "SOCIALLY AWKWARD ??" and "Cat Farts." Recently, he had begun uploading covers of popular songs as well, like a ukulele-assisted rendition of Adele's "Make You Feel My Love." While recovering from an illness, he solicited questions from his fans. In between answering queries like "When did you start singing?" (answer: "since inside the uterus") and "eggplants or buttholes?" (eggplants), he fielded comments playfully asking when he might release an album or go on tour. "Well, if you want me to come out with an EP or something, maybe start emailing my video to a ton of record companies," he replied. "Oh my god, that would be a dream come true if I got a record deal. That would be everything I've ever wanted in my entire life." There's a quick jump cut, as per YouTube vlogging standards. "Ah, moving on, I'm going to start crying if I think about it," Gray sighed.
In January, Gray, now 21, stood alongside artists like Shawn Mendes, Justin Bieber, and Beck at the Hollywood Walk of Fame ceremony for Universal Music Group's CEO Sir Lucian Grainge. He signed with UMG subsidy Republic Records in 2018 and may just be their next big thing. While Gray might not have the general population name recognition as the rest of the artists in the group photo yet, he's already something of a superstar to the under-25 crowd.
Halsey namechecked Gray as a dream collaborator during an IG Live session. V of the K-Pop group BTS has cited Gray as an inspiration for the band's future music. Noah Cyrus and Tommy Dorfman count themselves as fans. A selfie with The 1975's lead singer Matty Healy sent Gray's fans into a tizzy, and he's opened California dates for Panic! At the Disco. On YouTube Gray now has 1.8 million subscribers; there's another 1.4 million on Instagram. Even though his debut album Kid Krow doesn't drop until this Friday, his available songs have already been streamed on over 400 million times across various platforms.
But for people still figuring out who, exactly, Billie Eilish is, Gray might look like just another model off the record industry's Gen Z conveyor belt of sad pop.
"I started writing songs and putting them up online when I was twelve," said Gray recently on the phone from Los Angeles. "Nobody gave a flying fuck that I was making songs. Nobody cared, and I did it because I loved it. I was very bored and I was living in the middle of Texas and I had a really rough childhood, so I had a lot to say."
Gray had a youthful habit for crafting songs from billboard slogans he saw on the highways, or shampoo bottle labels. Sometimes he'd even find inspiration from plumbing.
"There's one in particular that my sister still has on her flip phone from when we were living somewhere in the middle of California," he said. "I was maybe six or seven and it's literally a song about the toilet. I'm on a skateboard in our bathroom singing a song about the toilet. I don't remember how it goes, but I think there were a lot of poop jokes in there."
"Poop jokes still work on me, even though I'm 21 years old," he added. He flips often from poignant ruminations to youthful giggle fits.
Gray's long journey to this moment is well-documented online. His story is something like the movie Eighth Grade, except with songwriting skills and a fairytale ending. Even as the record industry once faced existential dread at the prospect of the internet destroying it, it's long been adept at using the internet's tools to find and promote new talent. There were the halcyon days when any band with a large MySpace presence and closet full of American Apparel could get some sort of record deal. Home videos uploaded to YouTube led to Justin Bieber's discovery. An entire wave of EDM DJs, including Afrojack and the late Avicii, honed their craft through sharing tips and tracks on the message board section of another DJ's website. Vine gave us Shawn Mendes. A strong TikTok presence has led to the signing of at least one rapper. That's nothing compared to the numerous artists who have emerged from SoundCloud, Lil Nas X included.
In Gray's case, it wasn't so much that he was scouted from the internet based on young promise. Rather, he emerged almost fully formed after being nurtured online.
After posting more covers (songs by Lana Del Rey, Troye Sivan and Frank Ocean among them), Gray began uploading acoustic performances of his own originals. Eventually, he started using his computer's default audio and video editing software to produce more polished releases for his own compositions.
"I learned how to do all the production and all that kind of stuff literally off of YouTube videos and off of the internet, and also from just experimenting and slowly learning," he said.
A song called "Idle Town," a wistful ode to his senior year of high school and his Small Town, USA youth leading to his big break. The video for the song cuts between filtered footage of the singer hanging out with his friends, and Gray walking alone down a suburban street while mouthing lyrics into a water bottle, Chalamet-esque black hair bouncing as he moves. Some fans make jokes in the comment section ("Director: how cute do you want this to be?; Conan: yes") but might not realize that Gray did most of the work on the video himself, alongside his best friend Ashley.
"We'd just tape my camera onto a car and shoot it," he said. "The drum in that song isn't even a drum sound. It's me hitting my fist onto the desk to make a drum sound. All the synths are just me singing because I didn't know how to use synths."
At that point, Gray had reached 100,00 subscribers to his channel. That's small compared to YouTube royalty (Makeup guru James Charles, for example, has 17 million), but enough to suddenly push the video viral.
"I had 100,00 subscribers and was like 'Oh, that's a lot of people,' but in my head I didn't really understand what 100,000 people were," he said. "I put it up and within a week it had gotten a half million views and I was like, 'Wow, that's a lot of views,' but I didn't really realize that that was a lot, you know? I didn't get it. I'm a normal high schooler, and in my head I think that what's so beautiful about the internet is you can become really famous out of your bedroom. Then it was like, 'Now it's gotten a million. Now it's gotten to five million,' and then ten. It just kept going and going and going, and I had to stop and think, like, 'What is happening?'"
In a matter of months, "Idle Town" would change Gray's life.
"That same week that I put up 'Idle Town,' I got kicked out of my house so I was living with my friends. I also started getting hit up by record labels that same week," he said. "I worked really, really hard and got a scholarship and got into college at UCLA, moved to L.A. off of the money that I had made from 'Idle Town' going viral. Then I just went to college for literally two months, got signed, and dropped out and started touring. Literally so fast." Even during his stint at UCLA, Gray says he was "like Hannah Montana-ing it the whole time."
An EP, Sunset Season, which included his original bedroom-produced version of "Idle Town" unchanged, followed in 2018. Two tours of theater-sized venues took him across the country and to Europe. He put together an all-female backing band. Not on purpose, it just felt natural after hanging out with girls for most his life.
The debut album was at that point inevitable. To prepare, Gray said he wrote a song every single day for a year. He worked with producer Daniel Nigo, best known for contributions to Caroline Polacheck's "So Hot You're Hurting My Feelings" and songs on Sky Ferreira's Night Time, My Time. "I wrote all the songs myself, and I'd show them to him," Gray says. "He'd either be like 'Oh, this is a crappy song, that's not going on the album,' or he'd be like 'That's a great one, that's going on the album.'"
Though the demographics of Gray's fan base may resemble those of Bieber or Mendes's, lyrically, Beck's breakthrough chorus "I'm a loser baby, so why don't you kill me" may better match Gray's vibe. Kid Krow is full of songs of bitter longing, a dash of self deprecation, and a little bit of revenge.
In "Heather" he admits to hating a girl who is getting attention from his crush.
"That song is about basically, you know when you like someone, you subsequently end up hating everyone that they like?" he says. "That should be me. Ah, fuck Heather. I hate Heather. Stupid Heather. Why do they like you and not me? There's no reason why I should hate Heather, Heather is a perfectly fine girl, a perfectly normal person. There's no reason to hate her, but I have to admit that I do hate her."
"That's my unrequited love song," he says. "Which has kind of been my life story, so, yay."
Another song, "Wish You Were Sober," laments someone who would only admit their feelings for Gray when smashed. "They would always call me at a party, so I made this a party song," he says. "I like to write songs that sound fun, but when you listen to the lyrics you're like, this is actually kind of depressing." Lead single "Maniac" has close to 90 million streams on Spotify alone, and was recently added to BBC1's roation.
"I think music right now is so honest and so real because it has to be, because people are smart. People can tell when a song is fake or when it's formulated," said Gray. "People don't want fake stuff anymore. We live in an era where everything is fake, and we want something that's real."
While some promotion for the album and career milestones (a spot on the Coachella lineup and a performance on The Tonight Show with Jimmy Fallon) are now postponed due to the coronavirus, Gray is taking it in stride on social media. He's still eager for the album release. An album by an artist who stands as a testament to what you can create alone in your bedroom may actually be perfect quarantine listening. Gray isn't necessarily chasing career milestones, anyway.
"I have so many dreams, but these days, I try to take it day by day because all of this is happening so fast and I just really hope I get to keep making music and people are able to relate," he said. "Ultimately, I hope that I make my songs, and I disappear off the face of the earth and everyone forgets that I exist. That's what I really want."
Not much has changed since Gray was 14 and recording Q and As in his bedroom. After nearly shedding a tear over the idea of one day getting a record deal, Gray gave tips on how others could gain a YouTube following.
"If your number-one goal in YouTube, or anything, is to get famous, then you should probably stop and not be a YouTuber," he told his followers. "If you have a passion for being famous, but not a passion for making videos, or art, of singing or something like that, you probably shouldn't be pursuing something that you don't have passion for."
Related: Koffee Is Changing the Reggae Game