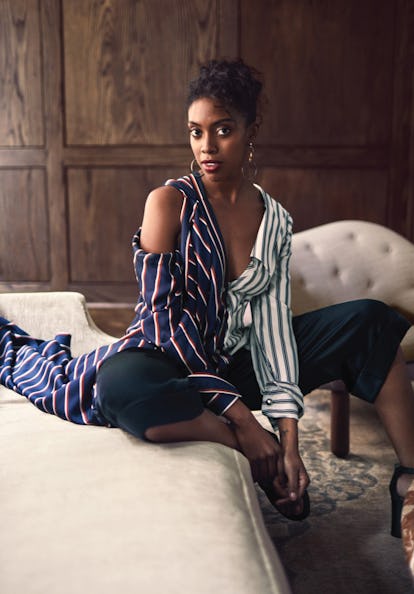 Photograph by Billy Kidd, Styled by Michelle Cameron, Edited by Sam Milner; Hair by Matthew Monzon for Orlando Pita Play at Jed Root; Makeup by Georgi Sandev for Chanel at Streeters; Manicure by Daw Sterling for Dior at MAM-NYC; Special thanks to Roll & Hill Showroom, NYC.
On the surface, Condola Rashad does not have a whole lot in common with Kate Sacker, the cutthroat assistant district attorney she plays on the Showtime hit series Billions, which starts its second season on February 19. As Rashad puts it, "I'm one of the least competitive people, sometimes to my own detriment."
But the 30-year-old actress, who epitomizes the idea that a good actress need not resemble her characters in real life, has transformed herself for a string of theatrical roles since launching her career in 2009. She has already racked up two Tony nominations for her performances in 2012's Stick Fly and 2013's The Trip to Bountiful. This spring, she will return to Broadway in A Doll's House, Part 2, a contemporary follow-up to Henrik Ibsen's classic stage work. Not to mention that Rashad is holding her own on screens small and large, with a role in the forthcoming indie film Bikini Moon and as Chiwetel Ejiofor's wife in the Netflix upcoming religious drama Come Sunday.
Here, Rashad talks about her early exposure to acting, her love of theater and discovering her dark side.
Kate is something of an enigma. How would you describe her? Kate is a person who is highly intuitive, a problem-solver, but she's often quite… she's kind of panther-like. She notices everything but she doesn't say everything. Everything that happens in the room or outside of the room, she clocks. She's always the person that manages to get this random information that's necessary. And it's interesting because of her rank in the office; she can't really do all that she's able to do. She kind of finds her way in, in a way that allows her to push the envelope but also remain in a professional standing with her colleagues. But she happens to come from a background that you wouldn't necessarily believe she'd be in this position, you'd think she'd be working for the other side. What that means to me—which I really like— is there is something with her at the heart of it where she does care about justice. She doesn't have to do this. She's home free. But this is something that really does mean something to her.
That took me a little while to figure out. I wondered, why is she doing this job?
You don't really know, and that's how the writers keep it. But for me as an actor, my in with it was like, Oh this is what she wants to do. This is what she thinks is her calling, no matter what her background—no matter what it looks like to anybody she's not easily hurt by that. I think the way she carries herself, especially with [Bryan] Connerty, is she's not apologetic about her money, but she also doesn't wear it on her sleeve, either. I'm not going to apologize and I'm not going to talk about it. Let's just get down to business.
Was that an attitude you identified with? That's a reality in another way that I know how to go about that, in terms of having people making assumptions about you. In a way, it's not about proving anybody wrong, it's about letting people have whatever they're going to have and continue to do what you do. A the end of the day, I'm just going to continue doing what I'm doing. That's all I can control.
Is that something you've dealt with specifically, given your family background [Rashad's mother is the actress Phylicia Rashad; her father is the sportscaster and former professional football player Ahmad Rashad], going into your chosen industry? I have struggled with it in the past because my personal background is something I'm very proud of. I claim that hardcore, but I don't lean on it. So it's this very fine line of I'm not going to pretend that's not my family but I'm also not going to ride anybody's coattails, either. They had to work hard to get what they got and that was the inspiration I saw. It's something I've dealt with a little bit, but not in a super strong way. I think it's because of the way I decided to handle it, like, Alright, I'm just going to keep doing what I do and the more and more I do that, then I've built something up for myself.
What was your entryway into acting? Oddly enough, it was never a question of becoming an actor. I always knew early that I wanted to become an actor, since I watched my mom in rehearsal. It was like, Oh I can't wait to do that! It was something that became a part of me, but I didn't train in it. In terms of what I actually was doing, I was training as a musician. My mom gave me piano lessons at the age of three. And so from then on, that was my after-school thing, that was my discipline. I played classical piano for about 10 years. Sometimes our industry can be very hard for children and they come out a little bit confused and disjointed. And my mother really wanted me to have [a normal childhood].
When you were watching your mom rehearse, what initially appealed to you about acting? When I was born, she was on The Cosby Show. It was the peak of that. But what I really remember is my mom's theater work. Because my mom has been in theater for a long time; a lot of people don't know that. She was in the original production of The Wiz, back in the '70s. She was in Dreamgirls. She kind of started out more like me, actually. But the really exciting part was the rehearsal room and watching them take something from a page and bringing that to life and watching how they did that. I was able to be a fly on the wall. I'd be in tech rehearsals. I was really able to watch her process. And she made me a part of the process—for example, when she would have rehearsals in Atlanta, I became her assistant. I was maybe nine. I think it might have been Blues for an Alabama Sky or Medea. She did both down there and I did this for both of them. She[would be] like, "Okay, Mommy has to take a nap between four and five," because she always took a nap before the show. So it was my responsibility to wake her up from the nap. Or sometimes I would be in the audience. I wasn't really qualified to do this, but I would take notes. And I'd be like, "Mom, I just have some notes." And she'd like, "Okay, maybe you should just run them through the director first." And because the director was a family friend, he'd actually look at them and be like, "Oh, maybe you want to look at them." I'd be like, "Mom, on that line, I just didn't hear you. Can you just find a way to deliver that?" So I always felt a part of it.
Does your mom give you notes now?
No, she's like… it's very interesting. Now that I'm an adult we have this very… it's mother-daughter but with an attempt to be professional. So she'll allude to things but won't actually say it. She'll be like, "I wondered about that part." And I'll be like, "I know what you're trying to say."
You studied acting at the California Institute of the Arts, but you grew up in New York, right? What I loved about Cal Arts is it's not a school where they shape you as an actor; they help you shape yourself as an actor. And that was a big difference to me. And that to me felt like more of a challenge. I feel like they do a really good job of letting us all know that as far as you go, this is for you because there's no guarantee when you get out of here that your career is going to go in the way that you want it to go. No matter how good you are, there's thousands of phenomenal actors that never see a stage. And that is the reality, and I feel like they did a really good job of letting us know that.
Did you know coming out of CalArts that you wanted to move to New York and do theater? That was my goal.
Why? One, creatively, I wanted to make my mark in theater because I trained in theater. So automatically I was like, This is where I am right now. And I felt when I was looking at the way things work in L.A. and [in New York] my initial response was, Okay, New York is a place that actually will take a chance on a new face in theater. You actually do have a shot. Whereas in L.A., I feel like it looked like a much more rare case for them to take a chance on someone new.
Speaking of theater, this spring, you will return to Broadway in the new play by Lucas Hnath, A Doll's House, Part 2. What can you tell me about your role as Emmy?
What's very interesting about Emmy for me is you have this play based on Ibsen's most famous, highly feminist piece, so you have these three characters that [Hnath's] not adapted but picked up where Ibsen left off and created his own response to what would have happened. But all three of these characters, they do have roots in the [original Ibsen play], whereas Emmy doesn't. So it's really cool because I'm like, Oh I get to really create this thing. She barely exists in the first one. She [didn't] really have any lines. There's no actual character. And so for me what it's been about is the challenge of going back to what it meant to be a woman living in Victorian Norway… it's 15 years [after A Doll's House]. We're creating this abstract world where we are staying true to the time, but then we're also taking certain things to find the contemporary parallels. There's always this tension between contemporary and classic in our production.
Your upcoming film Bikini Moon—I don't know much about it, but in the promos you look… Unhinged, which I was very happy about.
Were you looking for that? It's just more I was looking for a role where I could really, really go to town on. And if it's dark and kind of gritty, I want to do that. That's the school I came from and something I've been missing. It's a film that's shot like cinema verité, so it's like a fake documentary. It's these documentarians who decide to do a documentary on homelessness in New York, so they go to a shelter, and in the shelter they come across Bikini. And they're like, That's our subject, we're going to follow her, make a documentary about her and in exchange we'll help her get on her feet and we'll help her and she'll be fine. Long story short, they don't realize what they're getting themselves into. They don't realize what it's like to take on a person like Bikini. Their whole lives get completely turned upside down by Hurricane Bikini. She's quite odd by nature, which is quite exciting to me. And that's partially because of her circumstances, but what I was more interested in was I think that's part of who she is. And then on top of that she is bipolar, heavily bipolar. She has PTSD, she's an Iraqi war vet. She had a very unstable background. She has a three year-old that has been taken away from her because she's homeless and kind of a drug addict. So it's a mess. [The documentarians] come in and are like, We'll help you. But as long as we can film you all the time. People walk in and think, Oh this is a film about an Iraqi war vet, and oddly enough all of that is present, but that's not what the film is about. The film is about this person as a whole. When I was going into it I was like, I don't want to disrespect people who have had this experience. I don't want to make it seem as if they're only interesting because of these things that have happened to them. For me it was more about finding out who this person is and what is it that she really wants?
So you researched… All of it. Researching the bipolar part was really difficult. And there were certain things that emotionally I had never had to do professionally yet. I felt good afterward but it was really emotionally harder than I expected. I usually do a good job of, Yeah, I'm an actor and I have a lot of feelings but okay today's over, leave that there, it's not mine. And I was able to do that with this—but it was hard. There's a certain level of anger is actually higher than I, Condola, have ever experienced—and I've reached some angry levels. So I have to kind of like trust that the energy of the character will take me there. And that's what happened. I walked out of there with a deeper sense of myself as an actor, as a person. As actors, there's this thing of fake it until you make it; the show must go on. And you never really show that you're questioning yourself. You have to hold yourself in a certain way. But we also all have these doubts. I left there with, I still have a lot of things to work on, but I feel good in myself. It opened up a whole new window of all these things are possible.
It must be such a contrast to Billions, where you're in such control. She's like a big cat. Bikini in every way was the opposite of Kate Sacker. And then going back to it was, ahh, Bikini was such an indie film and it was fun, but after that going back to the very controlled Billions world…
It sounds like you enjoyed the dark side a bit. I did. I just enjoyed exploring a side I never had. I'm generally a light-spirited person. We all have our dark sides, and I'm not saying I don't, but the way I live my life is, Okay, how am I going to make this day cool? To have to do that every day was fun in a way. It was fun to go outside of my own self and delve into something else.
Get Condola Rashad's Chic, Ladylike Look
Photographs by Josephine Schiele; Styled by John Olson at Halley Resources
Photographs by Tim Hout; Styled by John Olson at Halley Resources
Giuseppe Zanotti Design shoes.

Photographs by Tim Hout; Styled by John Olson at Halley Resources
Photographs by Josephine Schiele; Styled by John Olson at Halley Resources
Photographs by Tim Hout; Styled by John Olson at Halley Resources
Photographs by Tim Hout; Styled by John Olson at Halley Resources
See what Bella Hadid is like at home: