Eva's entrance, Bijou's bijou and more
The high point of L.A.'s disjointed fashion week was probably Friday night's party at Danny Masterson's fashion emporium Confederacy. Vena Cava's Sophie Buhai was one of the first guests to arrive, shuttling past a rack...
---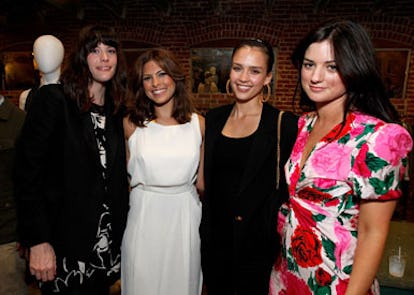 The event's host, Eva Mendes, arrived arm-in-arm with the night's guest of honor, photographer Eric Ray Davidson, whose photos from NY fashion week were on display. But the real focus of the evening was on former wild-child Bijou Phillips, who sat perched on one of the shop's few chairs as friends (among them Summer Phoenix, Rebecca Minkoff, and Cameron Richardson) gave their congratulations and eyed the actress's sizeable engagement ring, given to her just last week by Masterson. (Photo here is from Paper Magazine's January cover story about the Hollywood power couple.)
Stylists Jessica Paster and Nicole Chavez hung out with the boutique's co-owner, Ilaria Urbinati, while Chavez's husband, Kevin Volchok of Endeavor, was seen talking up some potential clients in the valet line. Once Liv Tyler arrived, the actress made straight for Mendes, who was deep in conversation with a dressed-down Jessica Alba, there with husband Cash Warren. Wilmer Valderrama did nothing to dissuade his reputation as ladies-man as he attended to a bevy of beauties in the menswear section of the store. Though a solo January Jones arrived just as the party was wrapping up, the Mad Men actress politely posed for photogs before catching what she could of the scene.
Photo, top: WireImage