Contagion Is Getting a "Philosophical" Sequel
Director Steven Soderbergh says he's been talking with screenwriter Scott Z. Burns about what's next.
---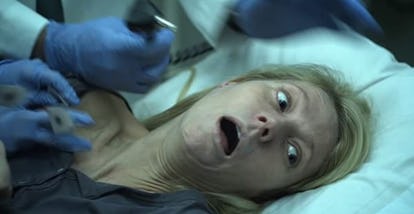 Courtesy of Warner Bros.
At the beginning of the pandemic, streams of the nearly decade-old film Contagion started to soar. If you weren't one of the many to make it belatedly go, um, viral, you already know the plot: Director Steven Soderbergh and screenwriter Scott Z. Burns's imagining of what happens during a pandemic is eerily similar to the events that have unfolded this year. Within weeks after the pandemic hit the U.S., the parallels were so obvious that Kate Winslet, Matt Damon, Laurence Fishburne, Marion Cotillard, and more of the film's alums reunited for a PSA about Covid-19.
Contagion ends right about where we are now: Vaccines for the respiratory virus are still in development, but at least of them have started to circulate. There's perhaps no better timing, then, for Soderbergh to announce that a sequel of sorts is up next. "I've got a project in development that Scott Burns is working with me on, that's a kind of philosophical sequel to Contagion, but in a different context," the director told Josh Horowitz on the podcast Happy Sad Confused.
"You'll look at the two of them as paired, but very different hair colors," Soderbergh continued. "Scott and I had been talking about, 'So, what's the next iteration of a Contagion-type story?' We have been working on that; we should probably hot-foot it a little bit."
If the pair gets to work soon, hopefully Burns will once again work with scientists to present an accurate road map, giving us a sense of what's next. "It has been very strange to me, whether on social media or in conversations with friends, that people will say to me, 'This is uncanny how similar it is,'" the screenwriter told Slate in March. "And I don't find it to be that surprising, because the scientists I spoke to, and there were a lot of them, all said that this was a matter of when, not if. So, I guess my feeling as someone who believes in science is that when scientists tell us those things, we would do well to listen."
Related: The Things Steven Soderbergh Will Tell You While Daydrinking in Central Park