Anne Christine Persson, Danish Fashion's Secret Weapon
Copenhagen Fashion Week is now a fixture on the global fashion calendar – thanks to Anne Christine Persson.
---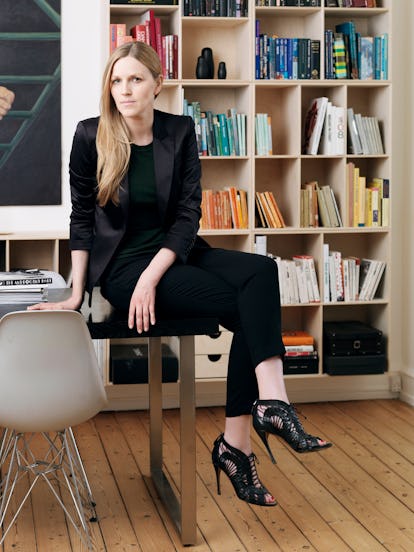 Copenhagen Fashion Week launched a decade ago this month with only a few shows and even less support from both inside the industry and out. When it kicks off Wednesday, it will have a very different story to tell.
"When we started ten years ago, fashion was one of the biggest export industries in Denmark, but somehow people never took it seriously," says Anne Christine Persson, the vice president and development director of the event. "Our goal was to create an identity that this is something we are doing really well. We have an aesthetic that other markets are super interested in and it has become a very major business and now there is a real pride in what we are doing."
Persson, a 40-year-old originally from Copenhagen, was the first hire by Copenhagen Fashion Week chief executive Eva Kruse. She never even planned to be in fashion, but after a stint in New York at the public relations firm People's Revolution, she fell in love with New York Fashion Week and wanted to create something similar for Danish designers. Over the years, she has been the driving force in the evolution of Danish fashion, working behind the scenes to promote on an international scale both the work of local fashion talents and the Scandinavian design aesthetic as a whole.
Today, Copenhagen Fashion Week draws editors and buyers from around the globe, eager to see the latest work of some of Copenhagen's best-known names like Henrik Vibskov ("one of our most talented Danish designers"), Ganni, Anne Sofie Madsen ("very avant-garde"), Asger Juel Larsen, and Freya Dalsjo. Aside from those designer mainstays, Persson says they've been focused on adding more menswear names to the schedule. "Definitely look out for Tonsure, a menswear label by a designer who used to work for [Maison] Margiela," she says of Malte Flagstad, who graduated from Central Saint Martins before launching the line, which will open CPHFW.
There's no denying the world's current obsession with all things Danish, from its food scene to its design. It's an inexplicable blend of elegant and edgy that everyone wants in on. "We are a force to be reckoned with," says Persson of the current Danish fashion industry. "It's accessible, classic, Copenhagen cool. There is something about it that really catches the vibe of people right now. It has this coolness to it that is innate and very much in our culture and lifestyle that is projected into our clothing."
The challenge for these designers, however, remains competing with fashion's current exasperating pace. "When you look at major brands like H&M, they are fast at production. It's hard for Danish designers, or designers anywhere around the world right now, to keep up with the growing competition and speed," says Persson. She and her cohorts have instead focused their efforts on the sustainability of their clothes, something Denmark as a country has been a leader in for years. "We want to be the most sustainable fashion week in the world," she says.
That's not all the ambitious Persson has planned—she's eager to make Copenhagen the fifth fashion city in the world. Part of doing that will be banding together with the rest of the Scandinavian countries (namely Sweden) to combine into one fashion week in Denmark.
"Scandinavian fashion has something we could all relate to. Getting them all together would make it stronger for everyone and I would love to make that happen," she says. "Less is more."
Photos: Anne Christine Persson, Danish Fashion's Secret Weapon