Also Known As @CopyLab
Instagram phenomenon Chris Rellas answers our social q's.
---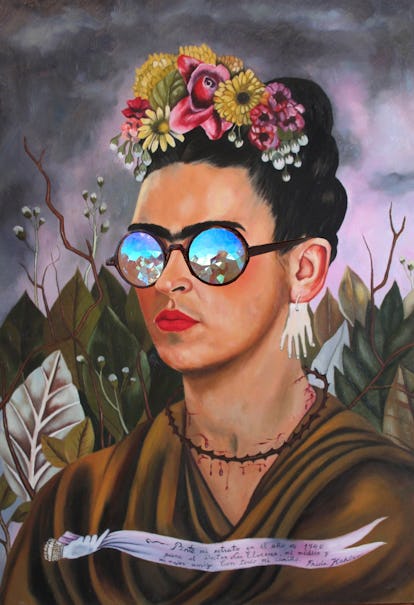 By day, 19 year-old Chris Rellas is a college student at Georgetown University. But back in his dorm, he's @CopyLab, an Instagram star who mixes the Old Masters with of-the-moment designer accessories and celebrity It boys and girls to create amusing new images. Think Jesus in Juande Juanes' The Last Supper holding an iconic orange Hermes wallet instead of bread. There's no wonder the playful creations, that fuse fashion with art, have caught the eyes of Calvin Klein, Anya Hindmarch, Missoni and more than 20,000 followers. Here, he shares the secrets to his social media success—from his favorite apps to his favorite artists.
Occupation: Student.
How did you start @CopyLab? Last summer, I was looking through one of my favorite art blogs when the idea dawned on me that the two "worlds" of fashion and art could and should intersect more often.
Process: Generally I work one of two ways: Either I see a piece of art that I find inspiring, or I'm reading Style.com or a street style blog and an accessory or designer catches my eye. Once I find something I'd like to work with my heart starts racing and I feel a real sense of urgency pushing me to bring my idea to life as quickly as possible.
First Instagram post? The first piece I worked on was "Girl with a Chanel Earring."
Favorite editing apps: I usually use Photoshop and Lightroom on my computer. On my phone, I use Whitagram, which is great if you want to add a border to a photo.
What period of art most inspires you? I think Renaissance images are great, as there's often a stark contrast between the paintings and the fashion elements that I add. But I personally love modern and impressionist art, and enjoy Picasso, Koons, and Monet.
Best creations: I really like some of the Kim Jong-il pieces. There's just something about taking a powerful man and dressing him in a flashy Balmain jacket!
What is your favorite brand? Saint Laurent, hands down. Hedi's runway shows make me weak in the knees and I often find myself awake really late at night, photoshopping my face onto Saint Laurent ads.
What are your favorite accounts to follow? @basic_in, @yourgirlchuck, @mattstarrmattstarr, @azaziegler, @garage_magazine, @sara_cath
Photos: Also Known As @CopyLab
H0les Eyewear. Photo by Chris Rellas.
Nasty Gal. Photo by Chris Rellas.
Anya Hindmarch. Photo by Chris Rellas.
Anya Hindmarch. Photo by Chris Rellas.
Poppy Lissiman. Photo by Chris Rellas.
Calvin Klein. Photo by Chris Rellas.
Chanel makeup. Photo by Chris Rellas.
H0les Eyewear. Photo by Chris Rellas.
Steve Madden. Photo by Chris Rellas.
Steve Madden. Photo by Chris Rellas.