Artist Cornelia Parker's "PsychoBarn" Is Haunting the Met's Rooftop, and Instagram
A surreal addition to the Manhattan skyline approved by Alfred Hitchcock and Instagrammers the art world over.
---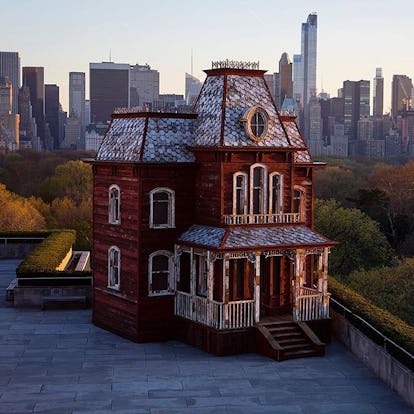 Cornelia Parker's charmingly incongruous haunted house went up on the rooftop of the Metropolitan Museum of Art this week, but don't worry if you didn't catch it—it's there, fittingly, until Halloween. As its name suggests, "Transitional Object (PsychoBarn)" is a mix of a classic red barn house and the Victorian mansion from Alfred Hitchcock's 1960 film, Psycho, which he modeled after an Edward Hopper painting. Parker, one of the original Young British Artists behind inventive installations like Tilda Swinton sleeping in a box, assembled it with siding and corrugated metal from actual deconstructed American barns. Like the original movie set, though, the façade is just that—it exists from only two sides, so you can't actually step inside. You can, however, post about your new real estate porn on Instagram.
Watch W's most popular videos here: