The Coronavirus Has Canceled Concerts Now Too
Live Nation and AEG are suspending the live concerts of various artists across the globe—including Billie Eilish, Cher, and Thundercat.
---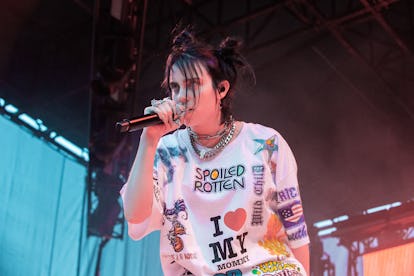 Jim Bennett/Getty Images
It was inevitable, but the practice of social distancing to limit the spread of the coronavirus must now be applied to attending concerts.
Earlier this week it was announced that Coachella, which is produced by the entertainment group Goldenvoice, would be postponed until October. Now, a couple more entertainment groups are suspending the shows of some touring artists across the globe.
Live Nation and AEG have suspended any upcoming tours—international and domestic—for the time being due to the viral pandemic and spread of COVID-19. If there's anyone you were planning to see live in concert through the end of March—Billie Eilish, Cher, Post Malone, and Thundercat included—you will have to wait until later in the year.
The agencies CAA, WME, Paradigm, and UTA released a joint statement with Live Nation and AEG announcing the postponement of their upcoming tour dates. "The world's leading forces in live entertainment have come together to form a global task force to drive strategic support and unified direction ensuring precautionary efforts and ongoing protocol are in the best interest of artists, fans, staff, and the global community," the statement read. "At this time, we collectively recommend large-scale events through the end of March be postponed. We continue to support that small-scale events follow guidance set by their local government officials. We feel fortunate to have the flexibility to reschedule concerts, festivals, and live events as needed, and look forward to connecting fans with all their favorite artists and live entertainment soon."
Eilish shared the announcement that her tour dates from March 13 to March 28 have been postponed indefinitely via Instagram Stories. "I'm so sad to do this but we need to postpone these dates to keep everyone safe. We'll let you know when they can be rescheduled. Please keep yourselves healthy. I love you," she wrote.
While some nations such as Italy quarantine the entire country, various regions in the United States are taking precautions when it comes to large gatherings (particularly over 500 people), which are either prohibited or on the verge of being prohibited. The spread of the coronavirus has affected Broadway, which has shut down all productions through April 12. Hollywood studios have halted the production of various series like Riverdale and Carnival Row and delayed the release of blockbuster films like No Time to Die, Fast and Furious 9, and A Quiet Place II. Even talk shows have taken to producing episodes without audiences or airing reruns for the time being.
Though it is a necessary precaution to prevent the rapid spread of the illness, many industries are already seeing the consequences of postponing events for a month. Broadway will suffer (and some shows that were scheduled to premiere in the coming weeks, like Tracy Letts's The Minutes, might not even be able to open at all after the pandemic slows down), and studios are seeing millions of dollars of lost marketing revenue. According to Billboard, stock at Live Nation and Madison Square Garden's parent company are reportedly down as well.