Wait, Should We All Be Meditating in the Time of Coronavirus?
Maybe Lizzo and Marianne Williamson are right?
---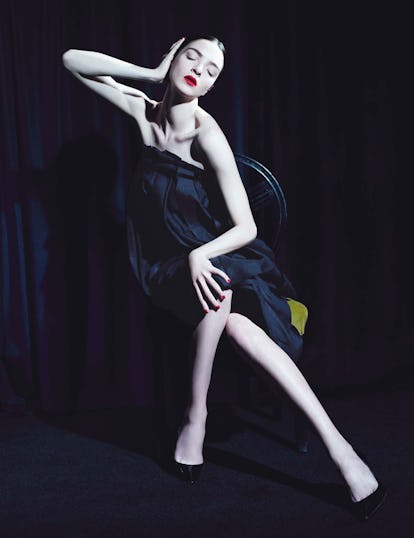 Photograph by Willy Vanderperre for W Magazine, March 2011.
The first time I heard about meditation as a possible tool in our coronavirus coping kit was when Marianne Williamson recorded a virus-specific guided meditation earlier this week. It barely registered. Of course, Marianne Williamson would be offering a guided meditation in these times. Next to Sarah Palin rapping "Baby Got Back" in a furry costume on The Masked Singer it felt like the most obvious development in the world. At least something was predictable.
Though, as the days ticked on, meditation in the age of coronavirus kept popping up like an intrusive thought I just couldn't keep out of mind. An HR e-mail suggested it as a helpful tool for concentrating while working from home. Lizzo, assisted by a flute and some crystals, took to her Instagram to offer her followers her own guided meditation. Fashion publicist Kelly Cutrone, too, told Page Six she'd offering guided meditation twice a day due to COVID-19. Lizzo, Marianne, and Kelly Cutrone? How could they all be wrong?
While it should be obvious that meditation is not some front-line necessity in the fight against the spread of the virus (it's not like the goal here is to manifest some mind-energy shield around your respiratory tract), the more I thought about it, the more its appeal at the moment started to become clear.
While, according to a Harvard Gazette article, actual scientific research on the effects of meditation has only been a recent trend, there have been quality studies that show meditation has at least moderate positive effects on depression and anxiety. (There's also been some research suggesting an indirect link between meditation and a healthy immune system as well, though, obviously, it's no replacement for good sleep, healthy habits, and washing your hands).
Though, I don't need science to tell me that there are worse things I could be doing while alone in my apartment attempting to do my part for social distancing. Sitting on a mat, putting on a Brian Eno ambient track, and attempting to push all thoughts out of my brain is more enticing than ever right now. At the very least, it's a great way to burn about 30 minutes of solitude. That's a solid 1/32nd of the waking hours we all have to fill.
Besides, I can't pretend I haven't attempted to reap the benefits of meditation before, most recently after the start of the new year. Once I managed to meditate for 25 minutes, and afterward I ran errands. I was the most calm I, or perhaps anyone, had ever been at the Atlantic Terminal Target. While part of me wonders if that sense of calm is psychosomatic, it's still preferable at a time where every tickle in my throat or slight ache in my back has me running to a thermometer to double-check I haven't broken out in fever. Better to let meditation trick my mind than viral panic.
Though, that 25 minutes of meditation euphoria gave way to 10 minutes a few times a week, which eventually led to no meditation at all. What better time to start up again than now?
For me, meditation wasn't much more difficult than finding a soothing ambient music playlist on Spotify (again: Brian Eno's albums usually do the trick), lying down on a mat, and attempting to concentrate on my breathing. If you need more help, maybe those Lizzo or Marianne videos may help. If you'd rather not have to think about anything related to coronavirus, YouTube is chock full of guided meditations. Apps like Calm and Headpsace are aimed at beginners (though many features require a subscription). Whatever path you go down, most agree there's no rush to get it right immediately. Nor should you feel rushed. You'll (hopefully) never have as much time to sit in your home alone trying to find calming ways to pass the time anytime soon again.
Just don't get so zenned out that you forget to wash your hands.
Related: An Avowed Fidgeter's Guide to Meditation and Mindfulness
@tommy.dorfman
OOPS YOU THINK IM IN LOVE ##britneyspears ##oopsididitagain ##innocent ##viral ##kaiagerber ##caradelevingne
♬ Oops!…I Did It Again – Britney Spears
https://www.tiktok.com/embed.js
https://www.tiktok.com/@tommy.dorfman/video/6805423694026919173