Coronavirus, But Make It Fashion?
How the industry is reckoning with the outbreak in the midst of Fashion Week.
---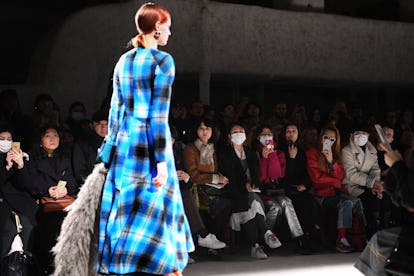 Getty Images
The designer Marine Serre has long put the future at the focus of her collections, usually incorporating face masks into her shows. But this season, the houndstooth and lace versions she showcased during Paris Fashion Week on Tuesday came across differently, as did those worn by her fans who posed for street-style photographers outside of the show. Anxiety over coronavirus outbreak, which only had a minor impact on New York Fashion Week, has finally wormed its way into Fashion Month. And on Tuesday, February 25, when the CDC announced that it's all but guaranteed the virus will spread in the U.S., everything seemed to come to a head.
Perhaps it's best summed up by a selfie that Bella Hadid shared with her 28.8 million followers while en route from Milan to Paris, wearing a slightly sophisticated face mask on an airplane. The post's lack of a caption felt discomfiting—like it was just another instance of a model sharing a photo of herself doing something ordinary, but looking extraordinary. "Coming thru with the anti coronavirus mask and still lookin good," one user commented. (Hadid has since echoed Philip Lim and Prabal Gurung's condemnations of the racism that's been spreading along with the virus, as has her sister Gigi Hadid.)
Bella Hadid knew better than to make light of the situation. At Milan Fashion Week, fear of the coronavirus was palpable. As showgoers and models came and went from shows like Boss and Prada, the number of cases of the disease in Italy spiked from just three—fewer than the tally at the time in the U.S.—to more than 70. On the penultimate day of shows, Giorgio Armani made a last-minute 3 a.m. announcement that he had canceled his show, which was set for later that day. (He ultimately opted for a livestream.) That night, the National Chamber of Italian Fashion and Michael Kors both canceled their own events, with the latter citing a government ordinance. Others forged ahead, but some attendees erred on the side of caution; white face masks can be seen glowing in the background in a number of Dolce & Gabbana runway photos.
Not everyone joined Hadid in continuing on to Paris Fashion Week. Asian buyers, influencers, and models in particular have been noticeably absent, and some didn't make it to Milan, either. Meanwhile, the face mask trend continues—as do the face mask selfies. Over the past 24 hours, Kate Hudson and Gwyneth Paltrow have posted ones on airplanes. The latter noted that she was on her way to Paris.
Naturally, Paltrow wore a version that was a notch up from your typical surgical mask. Unlike some, she also seems to have done her research; the effectiveness of face masks, which have been flying off the shelves, is scientifically up for debate. "Paranoid? Prudent? Panicked? Placid? Pandemic? Propaganda? Paltrow's just going to go ahead and sleep with this thing on the plane," she captioned the photo. "I've already been in this movie," she continued, in a reference to the film Contagion, before urging her followers to follow the CDC's advice: wash your hands.
Outside the Dior show on Tuesday, one person wore a face mask that was torn, seemingly as a street style (or perhaps political) statement. But inside, the house's creative director, Maria Grazia Chiuri, made a point to take things seriously. "All our thoughts are with our teams, clients, friends, and partners in Asia, Italy, and around the world," she wrote in the show notes. The following day, on Wednesday, staffers wearing suits, latex gloves, and face masks were stationed at the entrance of the Dries Van Noten show, offering free face masks to attendees. Inside, the designer also set up large containers of hand sanitizer.
But unlike Seoul Fashion Week, which announced its cancellation this week, Paris Fashion Week is forging ahead. The Chambre Syndicale announced that Shiatzy Chen, Masha Ma, Calvin Luo, and Jarel Chan have canceled their shows, and pledged to support each on social media channels like Weibo. Meanwhile, some are starting to worry more about the future. For luxury brands, the loss of an estimated collective $43 billion looms large, and for some editors, there are logistical concerns over the trip home in six days, when the shows end. Until then, you can expect plenty more sightings of face masks. They might not be effective hygienically, but they're certainly proving street style-friendly.
Related: Gigi and Bella Have Their Own "Gift of the Magi" Moment at Paris Fashion Week