"Should I Go Live Later?": Coronavirus, Celebrities, and the Perils of Instagram Live
Does everyone need to be performing on Instagram Live during the coronavirus quarantine? Some celebrities seem to think so.
---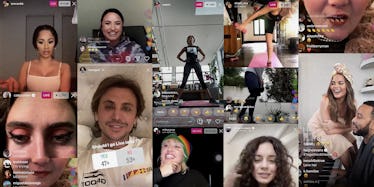 Should I go live later? It's a deceptively simple question we all might be asking while self quarantining ourselves away from the coronavirus. (It's also a question that was once famously posed by Jonathan Cheban, also known as Foodgod, to his own Instagram followers, to a tepid reply.)
In this period of isolation, everyone is sitting inside their houses, with seemingly nothing to do besides scroll through Instagram if they aren't busy working from home. And try as they might, celebrities are not exempt from catching COVID-19, so they're right at home with us, twiddling their thumbs and asking themselves that tricky little question: should they hop on Instagram Live?
It seems that just about every hour, I receive a notification on my phone that lets me know one of the (way too many) celebrities I follow is going live on Instagram. It's not just celebrities who are doing this, it's my normal, non-celebrity friends and random people who I follow, too. We're all just trying to stay sane!
But celebrities especially feed off of attention and when they don't get their normal amount for extended periods of time, that's when they go live. Not that that's necessarily a bad thing—we're all stuck inside and we all need some entertainment. And while broadcasting yourself live on Instagram is all a performance, obviously, it should be noted there are different taxonomies to this phenomenon.
Some celebrities have taken to Instagram Live to perform concerts, like Coldplay's Chris Martin, Keith Urban and special guest Nicole Kidman, and of course John Legend and Chrissy Teigen.
Miley Cyrus is hosting a daily talk show on IGTV Live called "Bright Minded" and invites her friends (and former frenemies, like Demi Lovato) as show guests every morning, having them answer questions as they come through in the comments from viewers of the live show.
There are also the home workout types. Naomi Campbell—master of healthy social distancing practices—has blessed us with a demonstration of exercises to do in your room, so you can finally get a body as fit as the supermodel's. Charli XCX received a personal training session from Diplo on Instagram Live, and will invite Rita Ora, Kim Petras, and Clairo onto her live dispatches from quarantine at various points throughout the week.
And then, there are the celebrities who have resorted to just talking shit. Some of it is good, like Cardi B eating her salad like she's picking through some chicken wings and letting us know that she, too, thinks this is all really, really crazy. But then there's Vanessa Hudgens who, in a very ill-advised move, shared an Instagram Live video of herself dismissing the severity of the virus (which of course meant she was almost immediately dragged by everyone on Twitter, and then had to backtrack her statement which she claimed was "taken out of context.")
But if there's one silver lining to this whole "everybody on your feed deciding to go live" thing, it's the fact that some people are really just serving up good, old fashioned entertainment, like New York-based comedian and W advice columnist Catherine Cohen, who hosted an Instagram Live version of her weekly show, "Cabaret Cabernet."
At some point over 3,000 people joined the event, which is typically hosted at Club Cumming in the East Village, to watch conversations and performances from just about everyone else who is funny and you should know about, including Pat Regan, Sydnee Washington, Joel Kim Booster, Bowen Yang, and Megan Stalter. Three thousand people is definitely more than could fit in Club Cumming, and it's kind of nice to see that more people were able to join in on a show that they otherwise may have not seen due to geographic limitations.
So, if you're asking yourself that question, "Should I go live later?" consider those who have gone live before you.
Related: How to Work From Home Productively, According to the People Who Do It Often