Where to Donate Amid the Coronavirus Outbreak
Here are nine wide-ranging options for those who don't know where to start.
---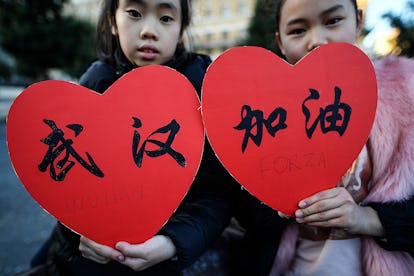 Getty Images
At this point, the effects of the coronavirus outbreak seem to have permeated every facet of society. We can't all pull a Miuccia Prada and donate six entire ICUs, but those who haven't been laid off or lost their hourly wages can do their best to help out some of the thousands upon thousands who've lost work or lack access to medical care and food supplies. Don't know where to start? Here are nine wide-ranging options of places you can support from the comfort of your home.
Your Local Food Bank
A quick search on the nationwide network Feeding America will turn up the closest food bank near you (or the community you're looking to help out). A $1 donation to Food Bank for New York City, for example, will provide five meals, and help keep the nonprofit going with its senior programs and food pantry.
As celebrities like Kerry Washington have been pointing out, you can also avoid purchasing groceries that are labeled "WIC."
American Red Cross
If you're healthy and running low on cash, you can always donate blood instead. The American Red Cross is reporting a severe blood shortage and urging those eligible to help maintain its supplies for patients in need.
Seattle Foundation
Washington continues to be one of the states hardest hit by the coronavirus in the U.S. Through its COVID-19 Response Fund, Seattle Foundation is funding grants for groups helping some of those most affected by the outbreak, like people without health insurance or sick days, gig economy and health care workers, and communities of color.
New York Immigrant Freedom Fund
The pandemic poses a unique threat to people in prisons and jails, including the hundreds of thousands in jail each day because they can't post bail. To help those currently confined to New York immigrant detention centers, you can donate to the NYIFF, which pays immigration bond for those unable to afford it and helps reunite them with their families.
National Domestic Workers Alliance
House cleaners, in-home care workers, and nannies face the pandemic without health care, job security, or paid sick leave. The National Domestic Workers Alliance is among the organizations providing them with financial support.
Service Workers Mutual Aid Fund
Students from Mason, Ohio have put together a fund for service workers affected by closures of restaurants and bars across the country.
Sex Workers Outreach Project
It's a particularly difficult time for sex workers, who are already stigmatized and criminalized as it is. The New York chapter of the Sex Workers Outreach Project has started a GoFundMe to provide monetary aid to those affected in the New York area, though you can also donate to the overall SWOP.
Planned Parenthood
In our current political climate, it's always a good time to donate to Planned Parenthood. For the time being, the organization is keeping its doors open, meaning it continues to provide all of its services, which of course extend far, far beyond abortion care. The group can also guide you in how to call your senators to demand that they pass the Families First Coronavirus Response Act.
GLAAD
Self-isolation takes a real toll on mental health—something that LGBTQ+ individuals already disproportionately suffer with. GLAAD in particular could use the funds right now, as the nonprofit is set to lose $2 million over the cancellation of its annual gala.
Related: Wait, Should We All Be Meditating in the Time of Coronavirus?