Cory Arcangel is Inn
The artist discusses his one-day Holiday Inn pop up shop
---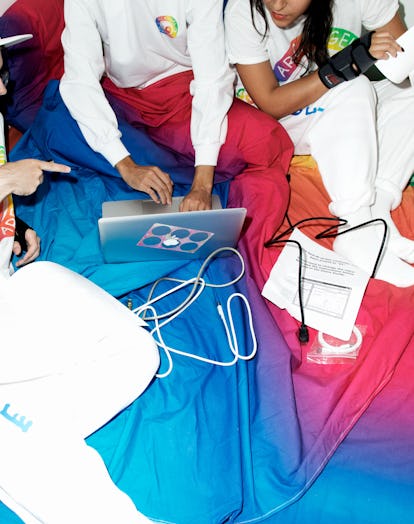 Before Cory Arcangel became the youngest artist to have a floor of the Whitney Museum to himself (he was 33 at the time of his 2011 solo show), he wanted to be a musician. But when he arrived at Oberlin College, where he was to study classical guitar, he discovered the endless wonder of high-speed Internet. The computer lab became Arcangel's dorm away from the dorm room, and DIY digital culture—coding, hacking, video games—hot-wired his artmaking.
The artist's latest project Arcangel Surfware, a line of sportswear and accessories designed for lounging about while aimlessly surfing the web, will debut at a one-day pop-up shop in a downtown Manhattan Holiday Inn this Saturday, May 17. The collection, which will, of course, also be sold online, is an undergrad's dream—tees, sweatshirts, and sweatpants emblazoned with the colorful Photoshop gradients of the artist's famed prints, made in the comfiest of collegiate styles. "The manufacturers kept sending me these 'nice' hoodies," Arcangel recalls. "And I kept saying, 'No, we need the super fluffy cotton.' We need the stuff that's not technically in fashion, the stuff that I got at JC Penney's when I was 12."
The collection also includes bedsheets, iPad and iPhone covers, even a zine spilling source codes to his previous computer art pieces—all of which is meant to make the experience of, say, binge-watching an entire season of House of Cards in 48 hours even more pleasurable. "It's the only kind of clothes I would personally be interested in," Arcangel says.
To produce the gear, he partnered with Bravado, a merchandising company that works with everyone from Kanye to Gaga to the Wu-Tang Clan. "I always hear hip-hop artists talking about starting their own clothing line," he says. "And I'm always like, 'What does that even mean?' To me, this is kind of a research project."
Half of the conference room in the Holiday Inn will display the collection, and the other half will be devoted to a show of the first new work the artist has exhibited in New York since the Whitney, curated by Hans Ulrich Obrist. Among the 14 or so drawings, sculptures, and installation pieces, there will be a TV in the shape of a polar bear that Arcangel bought from Wal-Mart, on which he'll loop a video of Bill Clinton jogging in short shorts. There will also be an animation sculpture made of department store Christmas lights. "The work I've been sort of secretly making the past three years has shifted towards a kind of strip-mall Americana," says Arcangel, who grew up in Buffalo, New York.
Given Arcangel's cheeky sense of humor, the idea of bringing an art world hanging on his next move to a Holiday Inn conference room can appear to be a big put-on—and that's just fine with him. "When I first started making art, everyone asked, 'Is this some kind of joke?'" Arcangel recalls. "And I'm very pleased that I've found myself in that territory once again."
"Arcangel Surfware" and the exhibition "You Only Live Once" are on view May 21, 2014, from 2 – 9 PM at New York's Holiday Inn Soho, 138 Lafayette St.
Photos: Cory Arcangel is Inn
Arcangel Surfware Sweatshirt.
Arcangel Surfware iPad Case.
Arcangel Surfware Sweatpants.
Arcangel Surfware T-Shirt.