How These Designers Made an Aluminum Cherry Blossom Tree That "Flowers"
The story behind Azusa Murakami and Alexander Groves' transfixing COS x Studio Swine collaboration at Milan Design Week.
---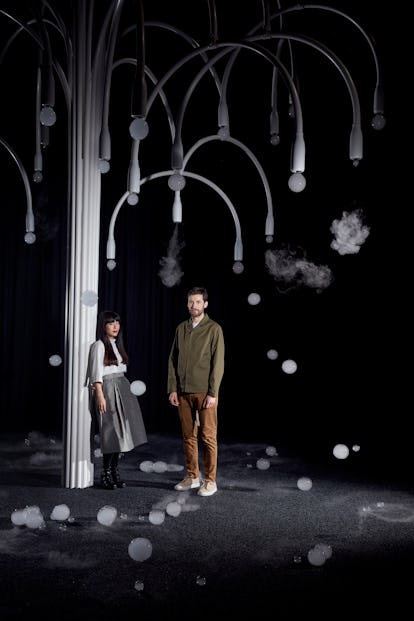 Photo by Mark Cocksedge. Courtesy of COS.
Every spring, the design world gathers in Milan for the Salone del Mobile, the furniture fair that pretty much takes over the city. And each year since 2012, the Swedish retailer COS has commissioned a temporary installation—from creatives like Gary Card, Snarkitecture, or the Japanese architect Sou Fujimoto—that offers a more immersive, abstract interpretation of design. These environments aren't so much about things as they are about ideas, providing fairgoers a moment of respite from, well, all that furniture.
This year, COS unveiled "New Spring," a lyrical installation by the London-based Studio Swine (an acronym for Super Wide Interdisciplinary New Explorers), which was founded in 2011 by the Japanese architect Azusa Murakami and the British artist Alexander Groves. The two are known for exhibitions and films that investigate the themes of regional identity, materials, natural resources, and industrialization.
Set in a decommissioned movie theater called Cinema Arti, "New Spring," which is on view through April 9, consists of a nearly 20-foot-tall structure that looks like like a giant, fountain-shaped Italian light fixture from the 1960s. Made mostly of recycled aluminum pipes that are used in scaffolding, its curved branches release "blossoms" that are like giant soap bubbles, and which linger briefly on the floor or on your hand—if you're lucky enough to catch one—before bursting into a wisp of vapor. (A scent that was custom-made for the installation fills the air with floral, fruit and wood notes.)
Murakami and Groves's myriad inspirations ranged from the Murano chandeliers found in Baroque Milanese palazzi to the cherry blossom scene in Akira Kurosawa's 1954 film The Seven Samurai as well as the scene in Federico Fellini's 1976 Casanova where chandeliers descend from the ceiling. The result is an object that captures the more glamorous aspects of the material world while evoking the ephemeral beauty of the natural one. "We experimented with a lot of materials," Murakami said, in search of "the functionality and tactility that are core values of COS. We wanted to re-create the feel of being under a tree full of cherry blossoms."
Or, as Groves added, "It was about creating a transporting moment."
Watch the videos trending on W: