Costume Designer Catherine Martin Gets Her Genius from Marie Kondo and Christina Aguilera
The master costumer behind The Great Gatsby and "The Get Down" shares her culture diet.
---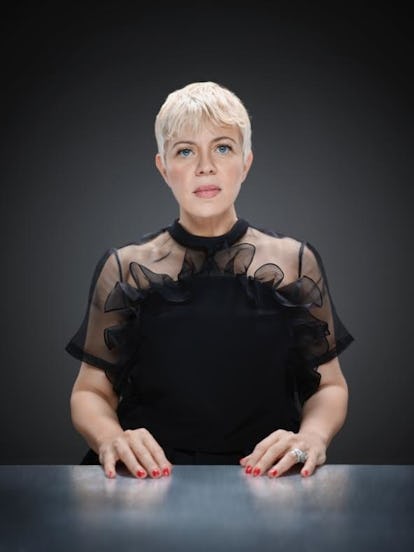 Whether or not you recognize Catherine Martin's name, you're definitely familiar with her work: She's the brains behind everything from Jaden Smith's wacky get-ups in Netflix's "The Get Down" to the lavish period pieces of Moulin Rouge! and The Great Gatbsy — and that just covers her work with her husband, Baz Luhrmann. Now, those costumes are getting a second life alongside work by artists like Vanessa Beecroft at this Wednesday's House of Peroni installation, orchestrated by director Francesco Carrozzini in the former Patricia Field boutique. Get a taste of where Martin gets her references with her culture diet, here.
First thing you read in the morning: My emails.
Books on your bedside table right now: The Life-Changing Magic of Tidying Up: The Japanese Art of Decluttering and Organizing by Marie Kondo and At Home: A Short History of Private Life by Bill Bryson.
The TV show keeping you up at night: "The Get Down"!
Last movie you saw in theaters: Not really a movie, but my husband's one-and-half hour first episode of "The Get Down"!
Last thing you saw at the theater: "Hamilton."
Last piece of art you bought, or ogled: Two beautiful abstract expressionist paintings by my friend Anthony White.
Last museum exhibition that you loved: The amazing, almost untouched, 19th-century exhibition hall in the Jardin des Plantes of paleontology and compared anatomies.
Favorite art space you've recently visited: The Picasso Museum in Paris.
Vintage shop of choice in NYC: What Goes Around Comes Around.
Favorite new store: The Laundress. It's just around the corner from my old house in Soho and I walk by and ogle at the windows all the time, though unfortunately have not actually made it in yet!
Best recent purchase: Shoes for two young friends! A pair of Rafael "Teenage Mutant Ninja Turtle" Doc Martens and a pair of unicorn Vans.
Release you're most eagerly anticipating: Life and Death of the New York Dance Floor, 1980 – 1983 by Tim Lawrence. So excited to learn more about a period we have been studying so in-depth for "The Get Down."
Last song you had on repeat: "Telepathy" by Christina Aguilera and "Cadillac" by Miguel.
Last concert you saw live: Katy Perry, with my daughter in Washington, D.C.
How you get your news: My iPhone and the New York Times app.
Favorite Instagram and Twitter accounts: My husband's.
Last thing you do before you go to bed: Switch off the bed side lamp!