Courrèges Designers Arnaud Vaillant and Sébastien Meyer's Insider Guide to Tokyo
The Parisian duo, who prefer to travel in Pleats Please, share their favorite places to shop, eat, and sing karaoke in their second city.
---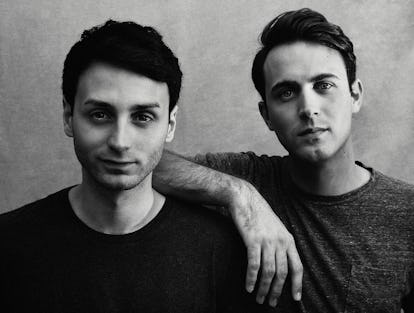 Briefly abandoning the buzz they've been making all year in Paris, the French duo Arnaud Vaillant and Sébastien Meyer, who are the new creative directors behind Courrèges, hit the road with the team behind Marfa Journal to celebrate their first year at the storied French label, chronicling their romp through the Pyrenees Mountains for The Marfabulous Courrèges Book, a new title out this month with Idea Books. But it's actually over in Tokyo where their Space Age sensibilities have found a true second home. With travel on their mind, the pair shared their tips and insider guide to the city they travel to at least once a year, including where to shop and sing karaoke, here.
Favorite neighborhood: Daikanyama, which is chilly, fashion and trendy; a fascinating mixture of the cute, the cutting edge, and the retrospective. And especially for Tsutaya Books, an absolutely perfect bookshop, where you can of course find the Marfabulous Courrèges book!
Favorite place to see art: Nezu Museum, with its great pre-modern art collection, which we discovered on our last trip. The architecture of the building itself is great, too, along with the garden. For us, it is a place that really embodies tradition and modernity.
Favorite place to shop: Dover Street Market Ginza. We have always been loving that store. There's a special display of Courrèges in a window that changes twice a season, we love it and feel very grateful! Can't wait to see all the surprises for their fifth anniversary.
Best place to shop secondhand: There are a few shops that we love near Harajuku, such as Ber Ber Jin, Chicago, and Jumble Store.
Favorite restaurant: Narukiyo, a perfect izakaya where all creative people of Tokyo gather. Tiny and authentic, tatami-style with perfect food, directly cooked in front of you!
Favorite café: Café Figaro, for when we miss France.
Favorite bar or nightclub for going out: Air Nightclub was the best!
Favorite spot off the beaten path: We visited DMM.make Akiba, a shared office space where hardware engineers develop technologies. It was very inspiring, as it gives the feeling that anything is possible, that the future is becoming real.
Favorite place to stay: The Park Hyatt. We love it! Special mention to the swimming pool, and the New York Bar on top of the building.
Go-to travel outfit: Issey Miyake Pleats Please trousers, and Comme des Garçons sweaters.
Can't miss: We really love karaoke, and we always have fun at Sekumeto. You can't leave Tokyo without singing karaoke.
See W's most popular videos: